Telling True Stories: An Interview With Ellen Gilchrist
Upon the publication of Mojo Rising, which includes a never before published story by Ellen Gilchrist, this pillar of Southern literature talks about the strange and miraculous true stories that have inspired her fiction. 
On Saturday at Faulkner's home of Rowan Oak, Sartoris Literary Group released Mojo Rising, Volumes 1 and 2. Featuring the short stories of the South's greatest writers and stories from 12 of the region's more recent trendsetters, Mojo Rising is groundbreaking for its ability to gather so many of the South's top writers in one place.
Joining William Faulkner, Eudora Welty, Tennessee Williams, Richard Wright and Willie Morris in volume one is Ellen Gilchrist—one of only two living writers (in addition to Elizabeth Spencer) in the collection. Her previously unpublished "A Christmas Story" is told in her signature style, blending humor and family life with the gritty details of childbirth.
Born in Vicksburg, Mississippi, Gilchrist has taught writing at the University of Arkansas in Fayetteville for many years. She ran away to get married at an early age but later went back to college and took a fiction writing class with Eudora Welty. She splits her time between work in Arkansas and summering on the Mississippi coast in Ocean Springs. She has written novels like Sarah Conley, but is best known for her short fiction and characters, like Rhoda, that reappear over and over. Her latest story collection is 2014's Acts of God, but she also published Things like the Truth: Out of My Later Years, a collection of nonfiction essays about life, family, home, work and aging, in 2016.
We talked to her by phone in Arkansas earlier this month about watching babies being born, how she became a fiction writer rather than a poet, what she learned from Eudora Welty and the story she's writing next. It was a delight to talk to Gilchrist about both her work and personal life, and it's obvious that she's succeeded at both being a matriarch of her family and a career woman. We're thrilled to hear that she's still writing and are convinced that she still has plenty to say.
EZB: Why was this the right time to publish your Mojo Rising story "A Christmas Story," and when was that story originally written?
EG: That surprised me when I saw that it hadn't been published before. I've written about five or six really wonderful Christmas stories. I like that time of year, and I have 16 grandchildren and four great-grandchildren. I had a wonderful, wonderful mother and father and a wonderful, wonderful family life, and most of my childhood Christmases were during the second World War when there wasn't much stuff in the U.S. and we made Christmas trees and we strung popcorn on them. I had a wonderful early life of sort of handmade Christmases.
That's a recent story, the last three or four years, because I never saw a child born. All these children, I had Cesarean sections. I would never even look at a movie of someone being in labor. I would turn the television off and run from the room. All I ever did was lie down, get a shot that made you think you were God and watch while someone cut open my stomach and took babies out. I thought that God had been so good to me never to make me do that [labor], but if they're a strong, healthy woman and like my granddaughter … my oldest granddaughter owns and runs a yoga studio and it was hard work, but Ellen never looked like she was in pain. The very short, who was my size, woman doctor who was in charge of it pulled me over to stand with her behind where the baby was going to come out.
It's such a beautiful experience. Have you ever held a placenta in your hand? I thought that it was absolutely the softest and most beautiful thing I had ever touched in my life. And because of that I know why babies love satin. I did not want to let go of it. I must have held it for five minutes. I just was so knocked out by that birth, and I probably wrote that Christmas story because of watching Ellen have that baby.
EZB: I read another short story of yours, "Love of My Life," and it's a Rhoda story. In that one, she says "They had tried to kill me with the babies." Would you say your view of childbirth and having babies has changed over the years? 
EG: I would imagine Rhoda meant that to be funny. I just thought having Cesarean sections was the coolest thing in the whole world. I have a family with a lot of doctors in it. All the doctors I ever had all my life were my uncles or great uncles and since then it's been my grandson. If I have an x-ray made anywhere, it has to go to Marshall. I love them and I appreciate what they go through to become physicians.
EZB: Let's go back a bit further. I read in a Clarion Ledger interview that you learned to write poetry working for a newspaper in Kentucky?
EG: I'd been writing poetry ever since before I could actually write. My dream was to be a poet, to get to the point where I could call myself a poet, and then later in my twenties or thirties I would have told you that what I wanted to do was to write one poem that was so good it would be in the canon for a hundred years. I never intended to be a fiction writer and then a man named Bill Harrison begged me. He was having dinner with me and he said, 'Ellen please write something about what it's like to live with those snotty rich people in New Orleans.'
I've always thought it was so incredible that except for that poor town that got flooded a couple of days ago, Charleston—that doesn't mean that I don't love New Orleans and all the many different parts of New Orleans—but that uptown society thing is really hard to take. It's like living in the 18th century or something and those people take it seriously. Because of that I wrote a story for Bill. He happened to be the main fiction writer at the University of Arkansas. He'd just written a story called "Roller Ball Murder" that was made into a movie ["Rollerball"]. I wrote him this story called "Rich." It was only about six pages long and he loved it. He said, 'My god please, please finish this story and I want it to have a really killer ending.' And I did it. It was just a second draft and so instead of being a would-be [poet]—I mean I've published a lot of poetry everywhere and I was doing what I wanted to do—but it was so easy to write that short story and I got so much praise for it … and then agents were calling me and then I wrote a book of stories in about three or four months and I let the university press publish it and then I got famous and started getting money and stuff.
Writing fiction's so easy for me to do and writing poetry was easy, but writing great poetry is agonizing, hard, hard work. Randall Jarrell, a California poet, once said, 'A poem is never finished if it's only abandoned in despair.' It really is hard to finish them.
EZB: Do you still write poetry?
EG: No, I don't and for a long time I did still write poetry, but I haven't done it in a long time.
EZB: What do you remember about the class that you took with Eudora Welty?
EG: I took a fiction class with her. Her father and her brother had recently died and her mother was dying in a nursing home, and Eudora spent every afternoon from 5 or 6:00 until pitch black dark when they'd kick her out sitting by her mother's side in a nursing home. She'd never married and she had no children. Her friends at Milsaps, to try to cheer her up—it's not that Eudora was depressed, but that would knock out anybody—they talked her into teaching a class for one year, one day a week, and I read about it in the newspaper. I went out to the library and took out all of Eudora's books and read them in one or two nights. I thought, my God, I want to be in that class, so I drove out to Milsaps College and walked into the head of the English Department's office and handed him all the newspaper articles that I'd written, and I said I really want to be in this class and the class was full but he let me in. I had never finished college at Vanderbilt because I ran away and got married and had children, so I signed up for all the poetry classes I could find at the same time and I ended up getting my degree there.
I wrote short stories for Eudora. I wrote her about one a week, and she would edit them and put these beautiful little pencil marks on them, very gentle, very light little pencil marks and I'd get it back and I'd say, 'Well, that must not be any good,' and I'd throw it away. I'd never heard about rewriting. There was one that she thought was publishable and I think I published it somewhere. The myths that go around about writers are not really the true stories. I'm telling you some true stories. I had a wonderful time knowing Eudora. She was my mother's age and they had friends in common and she was just a lovely, lovely lady.
EZB: What classes are you currently teaching now [at the University of Arkansas in Fayetteville]? 
EG: I had to be gone for a semester, so when I came back I didn't know any of the students, and so last semester I only taught one class, and that was just wonderful. You know money for nothing and the chicks were free, but to make up for it I'm teaching two, 15-person undergraduate classes. I'm teaching a graduate class with eight or nine of my favorite graduate students and it's called "Craft of Fiction," but I don't think there is such a thing.
I think the way to write fiction is to write it all the time. Every Wednesday, Thursday and Friday afternoon I'm up at the university for three hours teaching writing, which is kind of like walking down a tree-lined street to teach something you know. Also, at the moment, I'm finishing a novella in six stories that work like one long novel. This is just a first draft, but my typist loves it and my agent loves it and so I'm having fun doing it.
EZB: Did you spend part of the summer in Mississippi? 
EG: I spent from the first of May, the last day I had a class, until the 19th of August down on the coast living in my condo with my oldest granddaughter [Ellen] and her 2-year-old child. I watched her learn to talk and she has all kinds of little things she says that I say all the time, but I didn't know that I said them. She tells people al the time 'there you go.' I would say that to her when she did something right.
EZB: Let me ask you about Acts of God, because it has a theme of disaster and disaster relief and so with our two recent hurricanes, why was that a theme that you wanted to explore?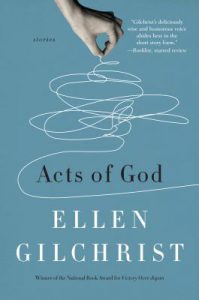 EG: I didn't. I just started doing it, because I wrote that story about the boy that finds the baby. I don't read newspapers very often. I want to exercise an hour and a half every morning and I want to write, so that doesn't leave a lot of time for daily news. I read in the newspaper, maybe I was in New Orleans. I always pick up The Times Picayune when I'm in New Orleans and I'm there a lot. It was just about a four-line story about a young man in Nebraska or one of the states near Arkansas where they have a lot of tornadoes who had found a baby while out with a group. There were no details, just a statement that he had found the child, and I have three sons and eight grandsons. I know what boys that age are like. To imagine a 12-year-old boy or a 13-year-old boy finding a baby. I kept imaging him figuring out how to bend over and pick up that baby and hold it. A girl would just literally know how to do it, so I brought his girlfriend in to take it away from him, but sort of like holding a placenta for the first time in your life, it's strange and miraculous. He'll never forget that moment as long as he lives, and I could never forget it and all of a sudden I wanted to write it as as short story. I had so much fun writing that story. That may have been the first one that was very definitely a theme. And then I started writing other hurricane memories and tornado memories. The amazing thing about what we've been through the last three weeks in the United States are the people, the heroes.
I know what happened … a girl in my class, she was a journalism major, had come to take a writing class with me. I think it was a nonfiction class. I love to teach nonfiction, because it's all really nonfiction in the end. I really liked her. She was always on time, she'd always be there before the class started, she was an athlete, worked out every day and looked extremely strong and healthy, and when Hurricane Katrina [came], her National Guard group were called up and what they do is you go fly up in helicopters and send people down to get people off of roofs. That's why she was such an athlete and she got called down to Louisiana and she called me late at night. She'd just gotten the call and had to leave in the morning and she said, 'Ellen, I don't know when I'll be back to the class,' and I said, 'My God, forget about the class. While you're at it, that's material for a pretty good story and I'd better see it before this class is over.' So I wanted to write that story because I'd gotten to know her well enough. I could just imagine her having the courage to go down on a chain from a plane and pick up someone from a roof, maybe even a man, someone even larger than she was, and put a harness on them and take them back up to the helicopter. I don't know if I'd have the courage to do that. I hope I would.
EZB: I also really enjoyed the title story "Acts of God" about the elderly couple that basically steals their own car.
EG: I know, they didn't mean to die. I love it. They went to the grocery store.
EZB: I was wondering about your thoughts on aging and if your kids tell you to do certain things and you ignore them or listen to them?
EG: They would never tell me to do anything that they wouldn't do themselves. And we agree on all of that. My sons would never put me in a position where I couldn't do exactly what I wanted to do. That was a story that my lawyer had told me. His grandparents, who were quite old in Texas, had had a bad wreck. They weren't supposed to be driving and they just got in the car one day and went for a ride. I love that. If you thought you could drive, wouldn't you just go get in the car and drive?
My father used to do that when he couldn't drive anymore in his eighties. He would get up at 3 or 4 in the morning and go out and get in his car and drive around the neighborhood very slowly. He had a diesel Mercedes. It had 400,000 miles on it. He was a Caterpillar tractor dealer so he could keep the thing fixed. He'd just go drive his great big diesel Mercedes very slowly around the neighborhood because he liked to drive. And he'd have a loaded gun on the passenger seat in a holster with the safety on. He didn't break laws. That little quiet neighborhood. He'd just cruise around a bit.
EZB: Is there a theme to the novella you're working on?
EG: It's a murder mystery. Not really. It's about a woman police detective in a small town in Mississippi on the coast, Ocean Springs. She's a graduate of Princeton University, but what she always wanted to be was a police woman and she is one and she's good and she's the top detective, except for her partner who she finally marries. They start a war on drugs.
Ellen Gilchrist photo by Nathalie Dubois.