The Top Five Casinos in the Deep South
A host of pubs and bars on a busy New Orleans street
Although gambling's long been a part of American culture, European immigrants who arrived in the late 18th and 19th centuries imported games like roulette, along with casino culture. But it was only after the 1930s when the first stirrings of Las Vegas truly started to move it into the mainstream.
Even so, it still wasn't until the 1950s and '60s that Vegas really took off to become the multi-billion dollar gaming and entertainment city it is today—and one whose influence has spread out across America, making significant inroads into the Deep South states, including Louisiana, Mississippi and Alabama.
So, it's hardly surprising that all of these states have casinos that can hold their own against any others in the land, and which prove to be an irresistible draw for so many visitors each year. Here are five of the very best of them.
L'Auberge Casino Hotel, Baton Rouge, LA
The casino, which is owned by Pinnacle Entertainment, first opened its doors back in 2012 and features a 74,000 square foot casino area, where you'll find 1,500 slot machines, 50 table games and a poker room, too. The whole resort recaptures the style and elegance of a Southern river lodge and provides the quintessential Louisiana experience encompassing hospitality, food, décor and lifestyle.
In terms of table games, there's a great selection to choose from, including blackjack, roulette, pai gow and the house speciality—craps. For those that are new to the game, there is a fantastic guide provided by 888casino that will leave rookies feeling as though they have a firm understanding of how to play craps. There's also a 1,500 square foot poker room, where there are frequent tournaments plus cash games, whether you favor Texas Hold'em, Limit Omaha or a number of variations on the game.
If you want to stay at the hotel too, there's the choice of 205 beautifully-appointed rooms and suites in the 12-story building, as well as four restaurants and grills to cater to every taste.
Hard Rock Hotel and Casino, Biloxi, Miss.
Since the first Hard Rock Café opened in 1971, the brand has gradually become synonymous with good times. So, that's exactly what you can expect when you drop in on its Biloxi hotel and casino.
The hotel is split over two towers—the Royal and the Platinum—which offer the choice of 479 different rooms and suites with fantastic facilities, including 42-inch TVs and amazingly comfortable beds. There's also the Rock Spa if you want a little pampering before you take to the tables.
The casino itself has over 1,300 slots as well as 50 table games, including craps, roulette and baccarat, all given that unique Hard Rock style. For poker players, there's the chance to play Mississippi Stud in the place where it was invented, and every Sunday and Wednesday there's also a $1,000 Blackjack tournament where all comers are welcome.
As you'd expect, there is a VIP lounge available from Friday to Sunday each week, where you can relax in real luxury while surrounded by custom-made design pieces and subtle amber and champagne-colored lighting.
Margaritaville, Bossier City, La.
There's a real feeling of Caribbean carnival time at Margaritaville, and not just in the 5 O'Clock Somewhere Bar, named after the legendary song. So, expect an atmosphere that's exciting but relaxed as soon as you step through the door.
The casino's at the heart of the resort and over 30,000 square feet —the only single-level gaming room on the Mississippi. Here, you'll find all you need to keep you entertained all night long. For example, there are no less than 1,300 slots including all of the latest games, and every single month players win $90 million in prizes on them. You can also find a wide range of gambling offers by looking through the $1 online casino list from lowdepositcasino.com if you cannot visit this entertainment paradise in real life. For table games fans, there's blackjack, roulette, mini baccarat and 100 x odds craps—plus a free cocktail. For people who like to play for slightly higher stakes, there's the High Limit Area where the excitement's turned up to the max.
If you're planning to stay, there's the choice of 395 rooms, many of which also feature private balconies and stunning river views.
Gold Strike, Tunica, Miss.
The Gold Strike Casino is located in Mississippi
Gold Strike in Tunica is owned and run by MGM Resorts, so you can expect the very highest standards and levels of service whenever you visit.
The hotel section has recently had a major refurbishment, so now the 1,133 rooms, including 125 prestigious suites, are even more lavish than ever before with marble baths, contemporary furnishings and every possible comfort included.
Located just a 30-minute drive from Memphis, Gold Strike's casino covers 50,000 square feet and features 1,200 slots, 130 video poker machines and 55 table games. Famous for its friendly dealers and high limits—for example you can play double deck blackjack with a maximum stake of $10,000—it also boasts some unique features such as the only midi baccarat game in Tunica and the only progressive jackpot in Mississippi.
To make life even more interesting, there are also frequent promotions and, to reward you for playing and staying, you can collect M Life Rewards points that you can redeem at any MGM resort.
Coushatta Casino Resort, Kinder, La.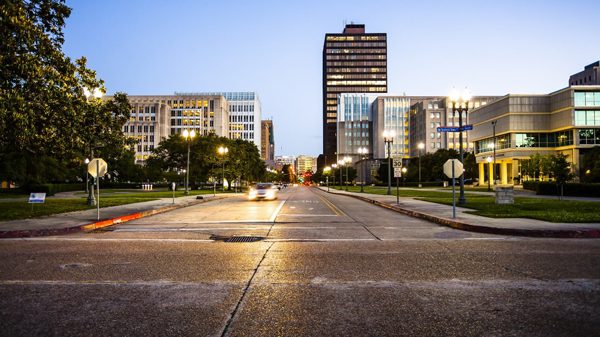 Louisiana is the home of the Coushatta Casino
You'll find Louisiana's biggest casino in Kinder, where the resort, which opened in 1995 and is run by the Coushatta tribe, has over 100,000 square feet of floor space. It also means that there's room to fit in 70 table games and an incredible 2,800 slots with both video and spinning reel versions for players who like to go a little old school. There's also a huge range of stakes you can play for from a nickel up. Plus, with progressive jackpots of up to $1 million, you could be heading home with a life-changing win. There are all the table games you could ever want—including the recently introduced Cajun Stud poker—plus off-track betting and live bingo.
There's also the choice of staying in the newly reopened adults-only Grand Hotel or in the 7 Clans Hotel, which will put you right up close to all the casino action. All in all, it's a fantastic resort that has rightfully earned a TripAdvisor Certificate of Excellence.
It's certainly true that you'll have plenty of choice and variety to look forward to if you fancy trying your luck in the Deep South. Combine this with the region's legendary hospitality, and you really will be on to a winner.