Known for more than just its warm weather and Southern hospitality, the South offers endless opportunities for your spring getaway. Whether you're seeking the ultimate Texas barbecue experience or a resort escape to a Florida beach, a warm adventure awaits. Here are the 10 best cities in the South to visit during the spring. 
Austin, Texas
Stereotypically known for its cowboy culture and giant food, Texas offers more than you may think. In 2016, Texas's capital and fourth largest city, Austin, won the "Best Place to Live" in the South. Austin residents love the city for its cost of living and superb job market, but they're not the only ones. It also proves to be one of the most popular tourist hotspots in the South. Known as the world's live music capital, Austin hosts huge events like the Urban Music Festival and SXSW, which both fall in March. For all the college students looking for a place to spend spring break, Austin just may be the place for you. In comparison to many other large cities, Austin boasts reasonably affordable airfare and lodging. While Texas may not be the first thing that pops into your head when you think of a spring vacation, its opportunities are endless. If you and your friends or family are looking to have a good time in the big city scene this spring, Austin is a perfect choice.
Myrtle Beach, South Carolina
If you're looking to get your beach fix early this year, don't overlook this prime spring vacation spot. Myrtle Beach offers temperate weather all year, and its gorgeous beach makes for the perfect family getaway. Despite its smaller population, Myrtle Beach is full of things to do. One of the beach's icons, the Myrtle Beach SkyWheel, is among the most popular attractions. The Grand Strand hosts a plethora of shops and restaurants. If you're looking to enjoy a family vacation this spring where the ocean is cool and sun is hot, look no further than Myrtle Beach.
Key West, Florida
For those looking to recover from this winter's savagery, Key West promises the tropical paradise that we all dream of escaping to. Key West is the nation's southernmost point and brags of warm waters and sunny beaches all year long. Proving itself as a very popular spring spot, you can be sure that beaches will be full of diversity and plenty to do. While it may be quiet throughout the year, Key West's bars and restaurants certainly come alive when the college students arrive for spring break. If you're looking to get your summer tan on early this year, make a trip down to the nation's tip. It won't disappoint.
Nashville, Tennessee
Certainly known for its footprint in the music industry, Nashville makes itself a great option for an opportunistic spring vacation. Home to numerous music venues and performance theaters, getting bored is not an option here. However, Nashville has been known to have varied weather patterns, meaning that it could be rainy or sunny in the spring season. On the plus side, the spring weather keeps the prices of accommodation and airfare low. Check out Nashville if you're in search of an upbeat spring getaway.
New Orleans, Louisiana 
You probably expected this city to be first on the list, so it's clear that New Orleans has made a name for itself in the South. As one of the most popular destinations under the Mason-Dixon line, New Orleans is a great mix of musical nightlife and classic Southern hospitality. With its name being such an icon in the South, New Orleans certainly sits on the more expensive side of the scale. If you can look past that, New Orleans offers a colorful and tasteful experience unlike many others in the nation. Jazz and rock-and-roll play throughout the year, while mouth-watering Cajun and Creole cuisine is available almost anywhere. There's no question as to why New Orleans continues to top the charts as one of the best destinations in the U.S. But don't take our word for it, go experience this Southern city in all its vibrant excitement for yourself.
Orlando, Florida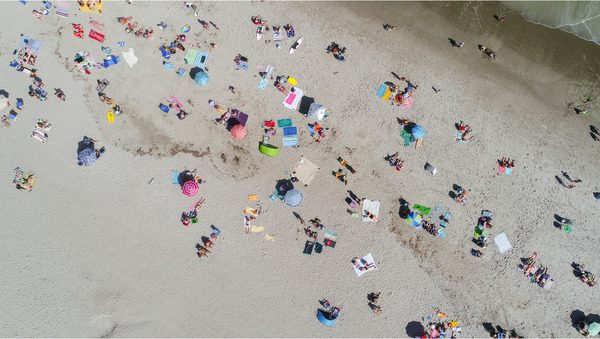 While most of its tourists come for Disney World, there is certainly more to see and do in Orlando than that. This Florida city has been known for its high-quality living, where large fancy homes inhabit its suburbs. Right outside of the city lies sugar-white beaches, while downtown Orlando offers world-class dining, shopping and a large assortment of tourist traps. Once you visit Orlando, you'll find out why its residents are such happy people.
Read a review of Sean Baker's new film "The Florida Project," set in Orlando.
San Antonio, Texas
The culture and nightlife of Texas has never seemed more alive than in San Antonio. While its most iconic attraction may be the historic Alamo, San Antonio makes a perfect spring getaway for students and families alike. You can't say you've been to San Antonio without exploring the River Walk, a long city park that houses boutiques, cafés and high-end restaurants. For a more memorable experience, take a riverboat to escape the hustle and bustle of tourists. Spring might just be the best time all year to make a visit to this vibrant and historic city.
Little Rock, Arkansas
Quickly becoming the Silicon Valley of the South, Little Rock's population is rapidly growing, as its tech scene continues to increase. While the average cost of living is significantly lower than the national average here, vacation costs prove inexpensive and are ideal for visitors. Little Rock may not represent the party scene, but its family value certainly takes the lead. Some of Little Rock's best attractions are its replica Oval Office and nearby State Park. The city has excellent dining and offers several luxury hotels. If you're looking for a quiet spring getaway but don't fancy a warm, sandy beach, look no further than Little Rock, Arkansas.
Birmingham, Alabama
For all the history lovers, Birmingham may just make the perfect spring vacation. While the city is alive all year, Birmingham really lights up in the spring, as visitors pour into its limits. One of its signature springtime offerings is The Pepper Place Market, where farmers within a 100-mile radius sell fresh foods. The market is moved outdoors starting April 8, and you'll be able to find goods from all of the food groups. Besides being historically rich, Birmingham is incredibly family friendly. With numerous museums, theaters, and parks, you'll never run out of things to do with your family. 
Jackson, Mississippi
Last, but not least, this soulfully-Southern Mississippi city makes the cut. Jackson, the state's capital, continues to develop as more and more people visit its historic metropolis every year. Mississippi's Freedom Trail runs through the city, connecting its culture and history to a more modern yet country-styled atmosphere. Airfare and accommodations remain relatively cheap, making Jackson an easy and accessible place to spend a family retreat. Mississippi is also well known for its soul food, meaning you could find practically any Southern eats that you crave right in the city. Make a visit to Jackson and its warm and temperate climate to see why it makes for such an enjoyable and relaxing retreat.
Whether you fancy a tropical getaway or a classy retreat, one of these 10 Southern cities will be sure to meet your desires.
Photo Credits: Myrtle Beach by Dan J from Flickr Creative Commons; Little Rock courtesy of Little Rock Convention & Visitors Bureau; Pepper Place Market courtesy of Greater Birmingham Convention & Visitors Bureau; Jackson by Ken Lund from Flickr Creative Commons. 
Micah Trostle is an 18-year- old photographer, videographer and travel writer for trekbible. Although he was born in the USA, his home is Papua New Guinea, where he enjoys adventure sports, camping and people. He's passionate about Papua New Guinea and hopes to move back in the near future to impact business development and help to expand communities.