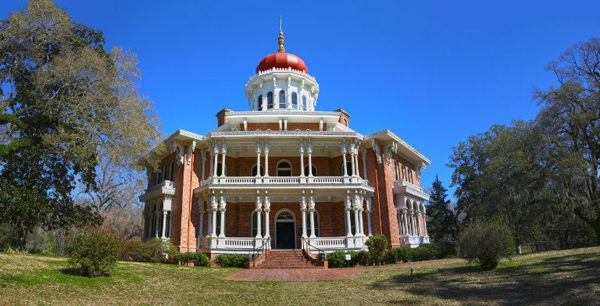 As Spring Pilgrimage kicks off in March, Natchez starts to bloom and continues to excite history and architecture lovers all year long.
As the oldest city on the Mississippi River, Natchez is certainly known for its history and preservation, but visitors may be surprised to find a vibrant downtown with plenty of shopping, nightlife and restaurants. Sure, Natchez feels sleepy most of the time and embodies the idea of a slower pace of life, but the city wakes up during the springtime.
There's always something to do in Natchez—even in the dead of winter when the Grand Village of the Natchez Indians holds its Moon Storytelling & Bonfire—but locals and visitors look forward to the chance to peek inside the doors of the city's antebellum homes twice a year. Spring Pilgrimage 2019 starts March 16 and runs through April 16. Tours of the city's historic homes are divided by themes such as movies and architecture, decorative arts, living history, legacy and Natchez stories.
Established in 1716, Natchez has plenty of stories to tell—and more than 600 examples of antebellum architecture. From the largest octagonal house in America at Longwood (pictured at top) to newly restored The Towers and the home of the first elected governor of Mississippi David Holmes, much of Natchez's Southern charm lies in its homes and their families.
Not on the Spring Pilgrimage but a wonderful place to rest your head afterward, Dunleith Historic Inn stands on the site originally occupied by "Routhland," a house built by Job Routh and his wife during the late 18th century. Their daughter Mary inherited the house and it was later sold to Alfred Vidal Davis, who gave it the Scottish name of Dunleith.
This Greek Revival home's 40 acres include an original 1790s carriage house, dairy barn, poultry house, greenhouse and a three-story brick dependency. The main house is also a historic museum, and the original carriage house is now The Castle Restaurant & Pub.
(Note: Dunleith is currently transitioning to new ownership but should be back open by the end of March.)
In between touring historic homes, several of the city's other pubs and watering holes shouldn't be missed. King's Tavern is located in Natchez's oldest building and is a cozy spot for craft cocktails like "In Our Time" made with local Charboneau Rum, Aperol, lemon and grenadine and a wood-fired pizza or pot pie.
The Camp and Under-the-Hill Saloon are both located in the Natchez Under-the-Hill district of town along the Mississippi River. The Camp is known for its craft beer, several from Natchez Brewing Co., and Pimento Cheese Melt topped with Cajun seasoned onion rings. Once a hangout for cut-throats, prostitutes and thieves, Under-the-Hill has live music on weekends and rockers on the front porch for catching a Mississippi River sunset.
Directly above the saloon is Mark Twain Guesthouse, a nod to Natchez's literary history and river location. With three rooms, one opening to a balcony overlooking the river, this is a fun place to stay if you don't mind the shared bathroom and a bit of rowdiness from the bar below.
River Edge Suites also has a Mark Twain Suite that looks out over the Mississippi from an antebellum building dating to the 1800s. Two other suites offer en suite baths, living rooms and full kitchens.
The William Johnson House, named for the free man of color whose diary is the lengthiest and most detailed personal narrative authored by an African American during the antebellum era in the United States, would also be of interest to lit lovers. He began to keep a diary not long after opening a barbershop in downtown Natchez in 1835 and continued writing until his death in 1851. Excerpts from his journals are displayed in the house museum, along with his illustrations. He wrote about hunting and fishing, betting on horses and the trials of being a slave owner.
Johnson's house is one of 13 national historic landmarks in Natchez and operated by the National Parks Service along with Melrose mansion, Fort Rosalie and UNESCO recognized Forks of the Road slave market site.
A great way to get around Natchez and see all of the sites is on an Open Air Tour. Tours via a six-passenger GEM car begin from the Natchez Visitors Center seven days a week (weather permitting). Ask for guide Sally Durkin, a native who knows not only the history of the city but also local architecture and lore.
Another popular Natchez tour is a Greg Iles Book Tour sanctioned by the author himself. Downtown Karla Brown takes visitors and fans to many of the places Iles mentions in his novels, such as The Quiet Game, Turning Angel, The Devil's Punchbowl and Unwritten Laws. There's also a Trilogy Tour that focuses just on places in the author's Penn Cage novels.
Iles made Natchez's Turning Angel, located in Natchez City Cemetery, more than just locally famous with his book of the same name. The angel monument's story is a sad one, as it marks the gravesites of employees who died in the Natchez Drug Co. explosion of 1908. The owner was so devastated that he decided to memorialize his workers with the monument overlooking their five headstones.
The name "Turning Angel" refers to the monument appearing to turn when cars driving by the bend in Cemetery Road at night shine their headlights. Turning Angel is Iles second novel in his Penn Cage series published in 2005.
To hear more tales of Natchez's deceased residents, plan a trip for the fall when Angels on the Bluff takes visitors through the cemetery by candlelight. Costumed locals and descendants are positioned in vignettes at various gravesites to act out the lives—and deaths—of everyone from reverends to attorneys, postmasters and the residents of some of the city's most famous homes.
Tickets for Angels on the Bluff, scheduled for November, go on sale August 1 and are known to sell out fast, so don't miss this unique opportunity. A Fall Pilgrimage also takes place in September/October, and other notable events throughout the year include a Literary & Cinema Celebration in February, Festival of Music in May, Natchez Food & Wine Festival in August, the Great Mississippi River Balloon Race in October and a monthlong Christmas celebration in December.
There's always something going on in Natchez and even if there's not, just strolling the brick-lined streets, gazing up at centuries-old architecture and ducking into a pub for a drink can easily fill a weekend. 
Longwood photo at top from www.stantonhall.com/longwood.