Meet the famous writers, journalists and a few ghosts who inhabit one of New Orleans' most ornate resting places.
Built in 1872, Metairie Cemetery in New Orleans tells a rich and varied history of influential events and figures in Louisiana history. Covering a sprawling 127 acres, the cemetery houses many former governors and mayors, along with famous writers, society figures and cultural and political icons. The cemetery itself, visible from I-10 eastbound, features memorials, marble tombs and beautifully stained statues and glass.
In 1838, what is today Metairie Cemetery used to be one of the most important racetracks in the Deep South. Following the Civil War, the racetrack was bought by Charles T. Howard in 1872—and made a cemetery. Designed by architect Benjamin Morgan Harrod, the cemetery's design still retains the shape of the original oval racetrack.
One of the oldest tombs in Metairie Cemetery is the Egan tomb, which is a replica tomb of the Egan family estate chapel in Ireland. This design by Pierre Casse involves making the marble appear chipped and broken. The Hyams Tomb is one of the most popular tombs for visitors and features a replica of William Wetmore Story's 1894 sculpture in Rome, Italy, the Angel of Grief. The tomb itself has freestanding columns and resembles Greek architecture.
Another prominent architectural landmark of the cemetery is Charles Brune's Pizzati mausoleum, a collection of Medieval turrets, curved dentils, Byzantine Columns, a blind window, an alpha and omega symbol and a draped urn. The Larenden mausoleum, commissioned for Laure Beauregard and her husband, along with her children, is another important architectural landmark of the cemetery. This mausoleum, built using dark Belgian limestone, features arches crowned with the Eastern Orthodox cross and a circular glass stained window over the tomb itself.
In addition to these architectural marvels, Metairie Cemetery also features the tombs of many notable and influential writers.
Stan Rice, poet, artist and husband of author Anne Rice, is buried in Metairie Cemetery. Born in Dallas, Texas, in 1942, Stan is the author of eight poetry collections, including Whiteboy, which received the Edgar Allan Poe Award from the American Academy of Poets, and False Prophet, published posthumously. His paintings are part of the collections of the Ogden Museum of Southern Art, as well as the New Orleans Museum of Art.
Also buried at Metairie is Ève Curie, French and American journalist and writer. Born in 1904 to physicist and Nobel-prize winner Marie Curie, Ève worked as a war journalist. When World War II broke out, she was made the head of the feminine division of the French Information Commissioner. During the war, she was a correspondent in Africa, Asia and the Soviet Union, and her reports from these travels were primarily published in newspapers in the U.S. Her reports were also compiled into the book Journey Among Warriors and received a Pulitzer Prize nomination in 1944. Eve was co-editor of Paris-Presse, a newspaper from 1945 to 1949, and from 1952 to 1954, she served as an advisor to Hastings Lionel Ismay, secretary-general of NATO. She also later was the executive director of the United Nations' Children's Fund of Greece.
American journalist Dorothy Dix, née Elizabeth Meriwether Gilmer, is another literary resident. Born at the border of Tennessee and Kentucky, Dix became a journalist after meeting Eliza Nicholson and eventually gained a readership of more than 60 million. Her column, "Dorothy Dix Talks," attained popularity once it became part of the Public Ledger Syndicate in Philadelphia. Her columns generally were focused on marriage advice and were immensely popular worldwide.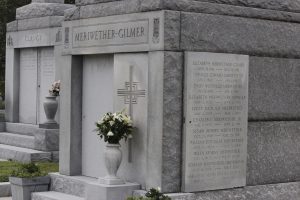 A New Orleans legend in her own right, Grace Elizabeth King was a novelist and historian whose work chronicled colonial Louisiana, often focusing on women's roles in history, including the intersectionality of color and gender. Mark Twain and Edmund Wilson were a few of her notable literary acquaintances. King was a well-known writer, published in various national magazines, including Harper's, Century and the Yale Review. 
Grace King family plot 
In addition to its famous residents, Metarie Cemetery is also said to house a few ghosts of course. A police chief, Louisiana Lottery winner and a famous madam have all been spotted on the former track.
Take a ghost tour with Ghost City Tours to learn more about Metairie Cemetery's inhabitants. Historic, Civil War and basic cemetery tours are also available.