These heartwarming, funny and thought-provoking Southern novels are ready to welcome you into the spring season.
Bells for Eli by Susan Beckham Zurenda (out now)
Zurenda writes a heartwarming story of Eli Winfield and Delia Green. These two cousins grow up in Green Branch, South Carolina. When Eli suffers from a serious accident, both of their lives change dramatically. He sustains physical injuries, and the cruelty of his peers doesn't make the healing process any easier. Through it all, Delia acts as a shield and protects him from the cruelty of others since Eli couldn't stand up for himself. Even though he can't defend himself, he'll do whatever he can to defend Delia if need be. It's only in our weakest moments that we find out what strengths we have, and in Eli and Delila's tale, family and loyalty are the motivation to persevere and overcome major obstacles. 
Bestselling author Donna Everhart is back with the heart-wrenching, thrilling story of 16-year-old Jessie Sasser, who's part of the illicit 1960s North Carolina moonshining business. She's known as the "moonshiner's daughter," and she's desperate to break free from the toxic cycle of the business. With no mother and a controlling father, Jessie struggles between who she's known to be and who she wants to be. She has to make tough decisions that jeopardize her relationship with her father, her good friend, Aubry, and other moonshiners alike. Moonshiners are proud of their business, but she's ashamed. This coming-of-age story shows the trials and tribulations of a young girl going beyond the boundaries that were created to keep her at bay.
Serge A. Storms has an inkling for myths and urban legends. When he and his pal, Colman, arrive in Palm Beach County, Florida, they come across an old sugar field. This quiet, desolate field is now known as a mass gravesite where African Americas who were killed by the Great Hurricane of 1928 rest. There's a legend about this mass grave that local children repeat time and time again: the boogeyman hides in this very field, among the stalks. Serge wonders if there's any truth to their claims and speculates that the boogeyman is a deranged maniac known as the Naked Florida Man that's caused a ruckus all over the Sunshine State. This novel full of humor and mystery will shock and entertain you.
The Escape to Candyland stems from a wasteland in Atlanta, Georgia, full of characters with colorful backgrounds. Readers can navigate through the intricate web of characters Takahashi has created. Follow immigrants, strippers and shopkeepers who have troubles with their pasts, their cultures and family ties. These characters are constantly. chasing their dreams while simultaneously running from their pasts. There's a lot of factors that keep one from reaching his or her dream, but the biggest obstacle is the person themself.
Join the fight that urologists Georgia Brown and her close friend Jonah Tsukada face. When Georgia leaves Harleston South Carolina hospital, Jonah reports a change in protocol to Georgia: the hospital instructs doctors that the hospital will no longer provide medical care for transgender patients. The situation worsens when Jonah is fired for refusing to abandon the health of transgenders as an openly gay man. This restriction put on transgenders goes beyond having a career and has more to do with human integrity, decency and kindness. This novel raises a lot of questions and approaches the sensitive topics of sexual orientation, rights and privileges, professionalism and humanity.
Blackwood by Michael Farris Smith (out March 3)
This Southern gothic novel takes place in rural Mississippi in a troubled town called Red Bluff. The town harbors ghosts transformed by kudzu vines that swallow homes, cars, rivers—and also hides a terrible secret. There are many unexpected twists and turns that throw Colburn and other residents of Red Bluff off. Despite the dreary, lifeless town, a lawman named Myer still believes the town can be saved. Discover how mysteries, fear and supernatural elements bring people together and establish human connections and realizations. Read our interview with Michael Farris Smith here.
With Uber on the rise, Lou Bishoff's way of life and main source of income as a taxi driver is under threat. He encounters different passengers in Northern Mississippi that need his services. For the sake of his job, Lou is willing to do so even if it means parading around rehab escapees or frat boys to and from drug dens. This novel is funny and witty, while simultaneously shedding light on the darkest areas of America. Despite the unexpected and dangerous backgrounds of passengers, Lou is able to sympathize with them. His shift leaves him wondering if he's a taxi driver or accomplice to the dirty deeds he's witnessed.
Revolver Road by Christi Daugherty (out March 10) 
When a mysterious voice called Harper McClain and warned her that someone wanted her dead, she left her home in Savannah and set sail for Tybee Island. A few months have gone by, and she becomes indulged with a hot, exciting story from the newspaper she works for: Singer Xavier Rayne disappeared before going on tour. The last thing anyone expected was Rayne's body washing up onshore. He was shot. Harper became obsessed with the mysterious case, but in uncovering the mystery of his death, the threat she faced months prior return. The killer that she was warned about is back and coming after her in Christi Daughtery's followup to A Beautiful Corpse.
Sean Dietrich is nicknamed "Sean of the South" for his commentary and connection to American Southern culture. Dietrich's memoir is about making peace with the past by revisiting the tragedies he and his sister endured growing up. His father was his hero before he attempted to kidnap and murder Sean's mother. Shortly afterward, his father killed himself, and Dietrich became the man of the house. Relive his experience of the tragic event and its aftermath that made him a successful columnist, podcaster, speaker and novelist. This memoir is a spark of hope to those who need it.
Pride of Eden by Taylor Brown (out March 17)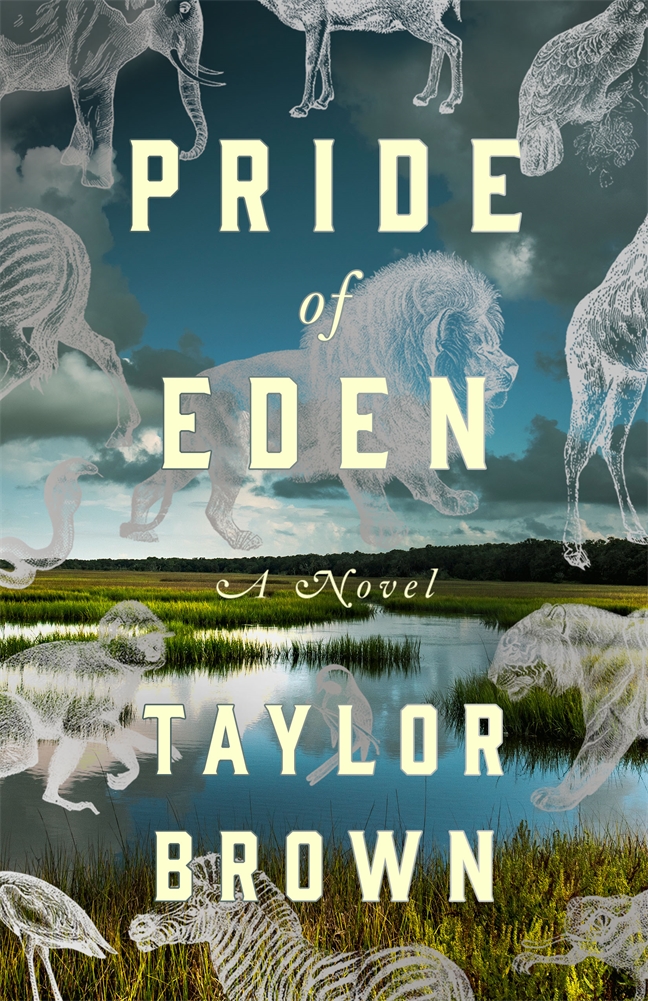 Lions! Tigers! Bears! Well, Anse Caulfield doesn't rescue bears, but he has rescued elephants and other animals of Little Eden, a wildlife sanctuary resides on the Georgia coast. Anse is devastated when his favorite lion escaped the sanctuary and was killed. He's willing to do anything to replace his feline friend. This novel takes you on a thrilling adventure of a man's obsession to find the right lion. In looking for him, Anse encounters a crocodile that's scarred from combat with other animals, a panther caged in someone's yard, a rare tiger that will be killed and harvested for its glands and even a pack of wolves. Somehow, he has to get through a parade of smugglers, gamblers, breeders and trophy hunters if he's to face the cruelty of confinement and restrictions to the world's most beautiful yet mistreated creatures.
Dre Ross was sent to Carthage County, South Carolina, with $250,000 and Brendan, his boss's grandson. On behalf of a mining company, Dre Ross is to introduce a ballot initiative. The only way to get votes is by manipulating the people of Carthage County into thinking that taking their land is a fight for faith and liberty. This is Dre Ross's last chance to redeem himself and keep his job, but his campaign is threatening the heart of Carthage County and shattering the small amount of his humanity.