History comes alive in this land of nearly forgotten places, country churches, cinder block fish houses and abandoned sharecropper shacks.
by Pat Branning
Due South from Charleston, South Carolina, down Hwy. 17, across vast expanses of marshlands, through palmetto-studded live oak hammocks and dark-water cypress swamps, the landscape breaks into open vistas and well-tended fields in the heart of the ACE Basin's plantation country. The ACE Basin is where the Ashepoo, Combahee and Edisto rivers come together to form one of the largest undeveloped estuaries on the East Coast. Here is a place so steeped in history, traditions, soulful colors and magical light that surely it must move historians to weep.
We cross over the Harriet Tubman Bridge, the site where abolitionist Harriet Tubman, an escaped slave herself, led other slaves hundreds of miles to safety on the Underground Railroad. This was a network of people, African-American as well as white, offering shelter and aid to escaped slaves. History comes alive in this land of nearly forgotten places, country churches, cinder block fish houses and abandoned sharecropper shacks. Wood Brothers' Store in Green Pond, now boarded up, stands silent but, its reputation for having the best boiled peanuts in Colleton County lives on.
Lowcountry History
Signs on both sides of the road mark centuries-old plantations with names like Cherokee, Clarendon, White Hall and Bonny Hall. The Gullah-Geechee people are the descendants of the slaves who labored on these and other rice, cotton and indigo plantations in South Carolina and Georgia.
I turn off onto River Road, which runs between Hwy. 17 and the town of Yemassee, and soon approach the gates at Twickenham Plantation, a 300-year-old rice plantation where the Old South comes alive. I drive through a thick stand of trees to an opening in the woods that reveals a white, two-story 1870s Federal-style manor house sitting snug among the oaks. There is a haunting beauty about this place as I think about the stories it could tell.
In 1779, British troops, local Tories and their Indian allies burned this whole countryside, including Twickenham and the nearby parish church, known today as Sheldon ruins. It took 80 years to recover and then Sherman's army burned it again in 1865. This is the house that was replicated in 1879 on its original footings.
I park in the front driveway beside mossy oaks hanging low, forming living tunnels of green and gray. Their limbs covered in resurrection fern are so enormous they reach the ground below. The history of the Old South takes place on these hallowed grounds where Carolina gold rice once fed the world. At the dawn of the American Revolution, Charleston, South Carolina, was richer than both Philadelphia and New York, thanks largely to a thriving economy based on rice.
The local landowning population was by far the richest single group in colonial America and probably the wealthiest in the world. Nowhere else in America did a segment of the population live so well. Barefoot legions of slaves were brought into the Lowcountry by the tens of thousands, and with them came seeds for plants from West Africa and vast knowledge of marsh cultivation of rice. Many of these plants have become Southern staples: sweet potatoes, tomatoes, peanuts, watermelon, okra, sorghum and, of course, rice. Their skills became the backbone of the South's economy.
Out of this subtropical jungle the slaves carved the vast rice plantations along the banks of these rivers. With knowledge the slaves brought with them from Sierra Leone in West Africa, they dug rice canals and moved hundreds of cypress logs, creating the dikes and infrastructure in a remarkable and herculean feat of human labor.
These were resourceful people who knew how to survive off the land. During the torrid heat of summer, they used watermelons as canteens while working in the fields and then took the rind to make soles for their shoes.
Standing on the banks of the Combahee, I try to imagine being down in those waters digging canals, swatting mosquitos and fighting off gnats and other dangers like snakes and alligators. Back then, rivers were as essential to rice culture as today's highways are to tourism. Broad and smooth, they floated barges heaped with Carolina Gold, to port cities in the North and South to be loaded onto ships for export. Some call it the caviar of the early 19th century.
With the Civil War coming to an end and the freeing of the slaves, the Lowcountry was brought to its knees. Twickenham's days as a working plantation were over. Once the slaves were freed, here and throughout the South, there were no more workers in the fields. Twickenham and nearly all the plantations became run-down, overgrown and in terrible disrepair.
The grandiose lifestyle of the Lowcountry aristocracy was over. Where there had been vast wealth and decadence, there was now absolute poverty. The Lowcountry stayed poor for the better part of a century as rice cultivation was gradually eliminated. After the Civil War, life changed very little for the freed slaves, forcing many to leave behind their homeland and seek opportunities elsewhere.
It wasn't until the early 1900s that Northern sportsmen began buying up all kinds of land, including islands and old plantations for the purpose of duck hunting. Captains of industry and finance, Henry Ford, Bernard Baruch, Andrew Carnegie and the Guggenheims all came and purchased the land for pennies on the dollar. It was nearly a total changeover of Northern money for Southern land. By 1920, hardly any estate along the South Carolina and Georgia coast remained in local hands. With them, the Yankees brought redemption. Plantations and estates were rebuilt, the grounds landscaped and entire fortunes squandered for the love of sport.
Land of Gullah-Geechees
The Lowcountry extends from the Santee River in South Carolina to Savannah, Georgia. Along these 200 miles of coast, the Gullah-Geechees, descendants of slaves, still cling to the edge of America.
Theirs is a unique culture in the small, remote communities where they have lived for generations. The marsh-lined shores of St. Helena Island are home to one of the largest Gullah populations. Those who leave often find themselves compelled to return to the land of their origins, the land they love. It is one of the few places where you can hear the Gullah dialect, and during the early- to mid-1900s, the island had an internationally famous witch doctor named Dr. Buzzard. People came from as far away as Paris to get hexes taken off, and the man's wife is said to have prepared 15,000 amulets of root, which people wore to ward off evil spirits.
The trim on windows and doors of many houses has for a hundred years or more been painted a light blue, called haint blue in the belief that this color keeps evil spirits out.
Dr. Emory Campbell of Hilton Head Island, born into a family of freed slaves, is one who never left. For over 20 years, he served as executive director of the Penn Center on St. Helena Island, tucked in the heart of the South Carolina Sea Islands, surrounded by great expanses of marshlands and nestled beneath silvery moss-draped limbs of live oaks. Penn Center is the site of the former Penn School, one of the country's first schools for freed slaves. It stands today as one of the most significant African-American historical and cultural institutions in existence. This is where Dr. Martin Luther King came and wrote his famous "I Have a Dream" speech.
Through his stories and experiences, Emory Campbell teaches thousands of visitors each year the story of his people.
Guardians of Cuisine
Rice, food and slavery are inextricably combined in the Lowcountry and have been since the beginning. B.J. Dennis, a Charleston-born chef, has earned praise for his ability to fuse the flavors of the Lowcountry with the foodways of his Gullah roots. He has devoted himself to promoting the cooking of the Gullah-Geechee nation. They are the cooks who created the peanut stews, okra-laced purloos and seafood that define Lowcountry cuisine. He stepped out of restaurant kitchens a few years ago to dedicate himself to educating Charleston and its many visitors about Gullah cuisine—and has become the cuisine's preeminent ambassador.
"Local cuisine is seafood. Local conch, mullet—it's not trash, it's eatin'," says Dennis. "Crabs, shark, oysters and shrimp, especially the little creek shrimp you can catch by net up in the creeks, are what we ate on a daily basis. If Mama said go get lunch, she meant go out on the river and cast a net for shrimp, or go catch a fish or some blue crabs."
"Charleston is progressing, and I love it, but you can't forget where you came from," he adds. "Our culture—new people just don't understand it."
Seeking to dispel the idea that African-American food is all about fried chicken and mac 'n' cheese, he built his menus around what his ancestors ate: fresh-caught fish, heritage grains and local vegetables. Then he started working as a caterer and private chef to host pop-ups all over Charleston and then all over the country. He educated diners and cooked pots of gumbo studded with creek shrimp. Then he taught Anthony Bourdain about Gullah food in the Charleston episode of" Parts Unknown."
"People say Gullah culture is disappearing, but that's just because they don't know where to look.," says Dennis. He tells me it's in the home kitchens, family farms that dot the region's sun-soaked archipelago and the no-frills roadside restaurants. Here is where you'll taste the pots of gumbo and greens families have been cooking in obscurity for generations.
Gullah Fixins
Chef Bill Green of Gullah Grub near Beaufort calls his food "smilin' food." "You gonna smile when you eat it," he says. He owns Gullah Grub, a white clapboard house near the Penn Center. A farmer, fisherman and huntsman, Green used to have his own cooking show, is a living local legend and an unapologetic Geechee.
"I'm as Gullah as you can get," Green laughs as we sit down on the front porch rockers of the restaurant. He grew up on James Island, near Charleston, a descendant of Gullah slaves. "Growing up there," he says, "I learned to drive a mule and a cart wagon by the time I was nine years old, hauling collards and cabbages from the fields."
Today, Gullah Grub is not only a restaurant but a training center where he and his wife, Sara, show local school children how to cook a simple pot of rice, how to fish, how to grow vegetables and eat the food of their ancestors. This instills in them a sense of pride in their identity as they learn to appreciate their past.
Travel a little further into St. Helena Island and you might find Jackie Frazier, the owner of Barefoot Farms, standing among tables of sweet sun-ripened tomatoes and cucumbers marked with hand-painted signs.
With his bare toes sinking into the soft sandy soil, just like his father's before him and his grandfather's before that amidst the row of melons, okra and collard greens, he holds up an heirloom tomato and inspects it with pride.
Carolina Pilau is a favorite Gullah dish to make in the summer with those vine-ripe tomatoes. Dishes like this one appear in various cultures as pilaf, jambalaya and just plain chicken and rice. In Charleston and the surrounding Lowcountry, they started as pilau, but they're often spelled "perloo" or "perlou." The word is pronounced "PER-lo" and "pee-LO."
Just as other styles of Southern food have emerged and gained followings throughout the country, Gullah-Geechee cuisine will continue to rise in popularity for several reasons. The first of those is that the food is soul-smackingly good.
Today, South Carolina is embracing its Gullah-Geechee heritage more than ever. The Gullah-Geechee Cultural Heritage Corridor is a 12,000-square-mile, federal National Heritage Area designated by the U.S. Congress to recognize the unique culture of the Gullah-Geechee people who have resided in the coastal areas and the sea islands of North Carolina, South Carolina, Georgia and Florida. It is not a national park but is comprised of historical and cultural places of significance to the Gullah-Geechee people.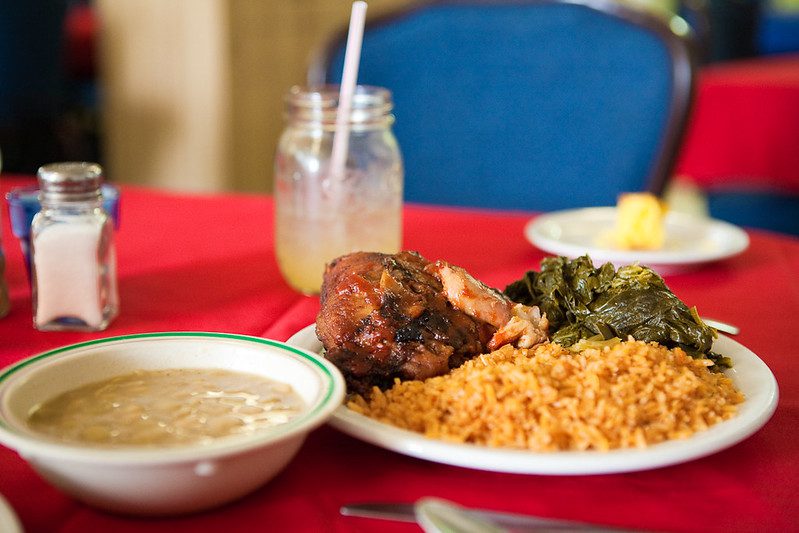 Recipe for Carolina Pilau
1 3-4 lb. chicken
2 qts. water
1 stick butter
1 large onion, chopped
2 cups celery, chopped
3 large tomatoes, peeled and chopped
1 Tbsp. fresh thyme
1/2 tsp. hot red pepper flakes
Salt and freshly ground black pepper to taste
2 cups long-grain white rice
Cover the chicken with water and simmer gently in a large pot, uncovered, for 30 minutes. Remove the chicken from the broth and reserve the broth. Skin the chicken and remove the bones, pulling the meat from the bones. Cut the meat into uniformly sized pieces and set aside.
Melt the butter in a Dutch oven on top of the stove. Add onions and celery and cook over medium heat until the onions start to brown, about 10 minutes. Add the tomatoes with their juice and the seasonings, adding a little more salt. Add the chicken meat, rice and one quart of the reserved broth. Cover, bring to a simmer and cook slowly, without lifting the lid, for 30 minutes. Serve with some spoonbread and a mixed green salad.
Pat Branning is a cookbook author living in Beaufort, South Carolina. Her first cookbook, Shrimp, Collards and Grits, started with a spiral-bound edition sold at St. Helena's Episcopal Church bazaar in 2009. Since then, Branning has published several coffee table books and two more editions of Shrimp, Collards and Grits. Her latest volume, Southern Traditions, is now available across the South, and Volume IV, Southern Roots, will be out in late fall or early 2021.