Daufuskie Island, located between Hilton Head and Savannah, is the perfect destination for an isolated beach getaway. Lacking a bridge to the mainland, and possessing only a few paved roads accessible by golf cart, Daufuskie Island gives visitors the feeling of traveling back in time. Daufuskie's charm of combining the new with the old manifests in its beautiful beaches, ancient oaks, Spanish moss and historical landmarks, while its local restaurants and arts scene keep the island's culture thriving. Daufuskie Island is an ideal place to unplug from every day for a beach getaway.
Planning a Trip to Daufuskie Island
Daufuskie Island can only be accessed by ferry, so visitors will need to make a reservation with the Daufuskie Island Ferry for transportation. The Daufuskie Island Ferry has transportation packages for day trips or round trips where visitors are staying multiple nights. If you're staying multiple nights, ensure to have land transportation waiting for you to take you and your luggage to your vacation residence.
Visitors planning a multiple-night stay can book a rental residence with Daufuskie Rental Group or Vrbo. Rental residences are going quickly, especially during the fall, so it is wise to make booking one your first step in planning a trip to Daufuskie. Your rental reservation may include a golf cart, but not always, so be sure to check with the rental company before arriving. If you would prefer to explore Daufuskie via two wheels, you can rent bikes from Tour Daufuskie.
Tour Daufuskie is owned by Chase Allen. Allen is locally known as "The Iron Fish Guy" because he also owns The Iron Fish, his remote studio gallery, where he sells handcrafted coastal sculptures. Allen is an award-winning metal sculptor who specializes in creating art that celebrate Daufuskie's marine wildlife. He has been featured in Coastal Living, Southern Living, Martha Stewart Living, Charleston Home and Hilton Head Monthly. After renting bikes from Tour Daufuskie, stop by The Iron Fish Gallery.
Restaurants on Daufuskie Island
Visitors can experience Daufuskie's culture through its local cuisine at Lucy Bell's Café, Old Daufuskie Crab Company and School Grounds Coffee. Lucy Bell's Café infuses the spirit of Daufuskie into Lowcountry favorites like shrimp and grits and Southern delicacies like fried green tomatoes and deviled crab. Eating at Lucy Bell's Café is a great way to start your vacation to Daufuskie by enjoying the island's take on beloved Southern foods.
Old Daufuskie Crab Company is another place visitors can enjoy the island's local restaurant scene and satisfy their cravings for all things seafood. Visitors to Daufuskie rave about Daufuskie Crab Co.'s local shrimp, fish and deviled crab. Daufuskie Crab Co. is located on the Cooper River, which provides magnificent sunsets as a backdrop for your dining experience.
School Grounds Coffee helps visitors beat the Lowcountry humidity with cold beverages and treats and learn about Daufuskie's literary significance. School Grounds Coffee gets its name from its neighbor, Mary Field School, which is a Daufuskie Island historical landmark. It was immortalized in Pat Conroy's The Water is Wide. Conroy was briefly a teacher at the school and his experiences there inspired his memoir.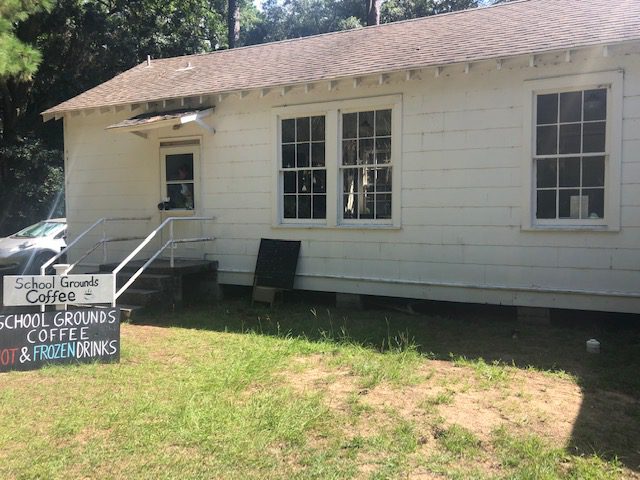 Melrose Beach Club
Visitors can also escape the humidity at the Melrose Beach Club pool. Pool access is free to visitors staying in Melrose rental residences on Daufuskie. If you are staying outside Melrose on Daufuskie, you can purchase pool access passes daily or weekly. Visitors can also enjoy food and drinks by the pool from the Melrose Beach Club's restaurant.
Daufuskie Island would make a perfect remote and relaxing beach getaway. Stay safe, and if you're planning to visit Daufuskie, ensure that you book a rental residence first as they are going quickly for the fall.
For more information on vacation destinations check out "Make a Splash with These 3 Scenic South Carolina Getaways."
If you're in need of a good beach book, consult our Summer Reading List.