The Mississippi Delta is known for blues, cotton and culture, but at Christmas time, this region of the South really lights up. Cleveland is a small town with a hip vibe. A few years ago, locals adopted the slogan "Keep Cleveland Boring" as a way to inspire and attract people to this part of the Delta.
Before long, a boutique hotel moved in and events like Other Fest, Pour Beer & Music Festival and Cleveland Bites Food Festival were popping up. 50 Nights of Lights is one of the latest efforts to keep Cleveland boring, and on November 14, more than 100,000 lights debuted across six blocks downtown.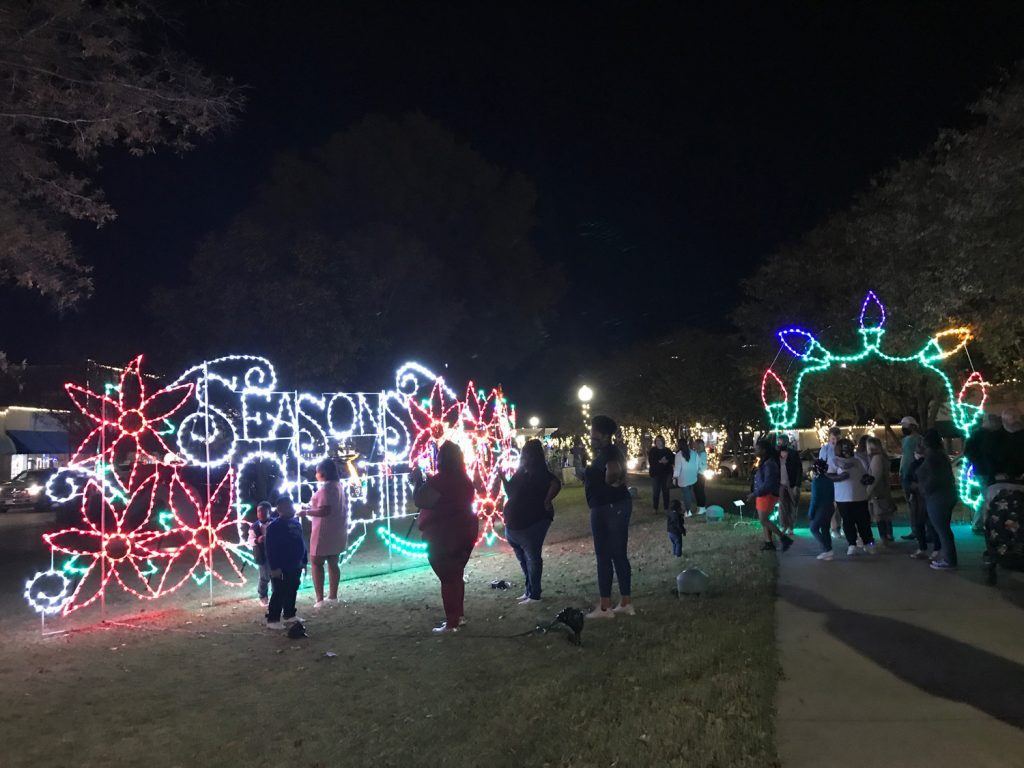 Through December 31, the lights will be on display each night for walking and driving tours through Cleveland's winter wonderland. If you stay the night (or two) at Cotton House Hotel, all you'll have to do is walk out the front doors to see the lights and get all your shopping done on charming Cotton Row.
A Tribute Portfolio Hotel by Marriott, Cotton House exudes Southern charm and hospitality. The lobby is decked out for Christmas with hot chocolate, a fireplace and live music on Saturdays. The hotel also hosts classes on topics from manners to art and cooking for locals and guests.
While there's plenty to do outside the hotel doors, once you enter your room, you may not want to leave. Spin a blues record on the complimentary record player and lounge around in your hotel robe by the window overlooking Cotton Row.
If you feel like getting dressed for dinner, there's Delta Meat Market serving up charcuterie plates, steaks, salads and Crack Pie for dessert. To check out the rooftop, head up to the fifth floor and Bar Fontaine for an old-fashioned, glass of wine or a burger. But if you don't want to change out of the hotel robe, just call for takeout (there are at least three other restaurants close to the hotel as well).
After a restful night's sleep on a feather pillow and a cup of coffee in your room, consider exploring the Mississippi Delta with a trip to the Grammy Museum, Dockery Farms cotton plantation, McCartys Pottery (serving lunch Tuesday through Saturday) or venture 30 miles north to Clarksdale.
The place where Robert Johnson traded his soul to the devil at the Crossroads, Clarksdale is home of the blues and the Delta Blues Museum. Literature fans can also see where Tennessee Williams spent his childhood and got the inspiration for many of his best-known works.
You'll want to be back in Cleveland before dark to get one more glimpse of the lights and be sure you check everyone off your shopping list. At boutiques like Neysa's Fireside Shop, Mod and Proper, Punkin Patch, H Squared and Cotton Row Bookstore, you'll find one of a kind gifts for everyone and more on your list.
Most shops will even do the wrapping for you, so you can return home from your trip to Cleveland ready to enjoy the holidays. There's also a good chance you'll want to go back to Cleveland in the new year to experience a "boring" festival, girls' weekend or for more retail therapy.
If You Go:
Cleveland and Cotton House Hotel are located off Hwy. 61 about two hours from Jackson. Rates at Cotton House start at around $100 a night. Most attractions are currently open at reduced capacity. McCarty's Pottery is open Tuesday thru Saturday from 10 a.m.-4 p.m. Wait times have been long on weekends with only a few people allowed in at a time. The Grammy Museum is currently open Thursday thru Sunday. Dockery Farms is open from dawn until dusk.