The Southern Connection: Truman Capote and Tennessee Williams' Rollercoaster Friendship
An interview with Lisa Immordino Vreeland, whose new film examines the ups and downs of Truman and Tennessee's longtime relationship.
by Cerith Mathias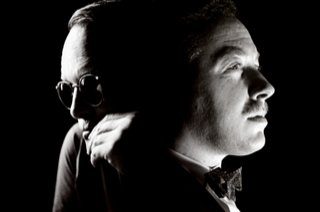 Literary lions Truman Capote and Tennessee Williams had a friendship that spanned almost 40 years, bookending remarkable careers filled with great highs—both penned works considered to be the finest of their era—and great lows—both dealing with career-limiting addictions and self-destructive behavior. A new film being shown as part of the Virtual Tennessee Williams/New Orleans Literary Festival examines the lives of both writers through their tumultuous relationship that veered between the fondness of familiarity and ugly competitive rivalry. Composed of TV interviews, theatrical interpretations of their work and diary entries and letters voiced by Jim Parsons and Zachary Quinto ("The Boys in the Band" ), the film sets out both men's stories through their own words. Lisa Immordino Vreeland, whose previous films include "Love, Cecil," "Peggy Guggenheim: Art Addict" and "Diana Vreeland: The Eye Has to Travel," presents us with an intimate and fascinating look at two of America's greatest scribes.
Cerith Mathias spoke with filmmaker Lisa Immordino Vreeland over Zoom about the ups and downs of Truman and Tennessee's friendship, their many successes and bitter struggles, and their searing relevance today.
Cerith Mathias: You've documented the lives of some of the great creatives of the 20th century. What drew you to Truman Capote and Tennessee Williams?
Lisa Immordino Vreeland: In my short career as a filmmaker, I think I've picked some great visionaries that have also been guided very much by the visual. This first started as a Truman Capote film and the producer said, 'You know, why don't you add Tennessee Williams?' and it was such a brilliant pairing. But I really wanted the words. When I was thinking of it just being singularly a Truman Capote film, it was the words that were going to guide us, it was the words that were going to make up the narrative of the whole film. I'm always questioning the legacy of all these characters and trying to redefine them and reposition them for a new, younger generation. And I feel that what we see today of Tennessee or Truman, we often see these later stages of their lives, that they're completely ruined. They were both complete alcoholics and addicts, and that's not their legacy.
I like the idea of being able to celebrate these people. The moment that Tennessee Williams was added and it became 'Truman and Tennessee: An Intimate Conversation,' it gave me and the team the freedom to create a dialogue with a lot of connections, because there were very many inter-connectors between both men. They were both from the South; they both had this urge to write from a very young age; they both came from troubled families; they're children of alcoholics, in Truman's case from both sides, in Tennessee's case, it was his father; and they both were gay. But then there were these crossovers in their lives. They had crossovers in New York, they both were expats, they both really loved living in Europe.
CM: As you say, the enduring picture of them both is from later life. They were both alcoholics and very publicly so, appearing on talk shows in various states of intoxication. How important to you was re-examining their legacy and that final image of them?
LV: I think this whole idea of redefining these visionaries and trying to tell a story in more of a contemporary way for new generations is very important. I think it's a moment right now to be able to celebrate this culture and to celebrate the two most important literary voices of the 20th century. In this story, I wanted to make it almost like we were voyeurs and we were just eavesdropping in on a conversation, and it was not in any interest to me to make a film that was a biopic, that somebody could walk away and say, 'I know everything about their life.' It's a moment in time. It's about these two people, it's like a tête-à-tête, but it's almost like a moment that these two great creators get together. They talk about their desire, their urge to write and need to write and the difficulties around it, and not only the creative difficulties but achieving fame and falling off that high pedestal and all of the intricacies that are involved in that.
CM: Structuring the film around their friendship is a very interesting way of telling their stories. They had such a fascinating friendship, and it was certainly very tumultuous. They could almost be called "frenemies." Could you tell me about their connection?
LV: According to Truman—and you know the one thing about Truman is that you never know quite how much of the truth is being told—he said that he and Tennessee met when he was 16 and Tennessee would have been around 29 at that time. Truman was always very much in the New York scene and Tennessee was in and out of it. They were important literary voices of that time; they were friends, and there were connections because they were in the same milieu, because that milieu was a small one. They did fall in and out of friendship. It was mostly because Truman Capote was not a kind person. He was always competitive and after In Cold Blood, that was really the beginning of him starting to slide down, and we don't know how much he was writing after that, while Tennessee really was writing the whole time. He never stopped. That's really what stood apart for me immediately. Tennessee, in the end, wanted ultimately to have a friendship.
Very late in the process of making the film, I met the Tennessee Williams expert Thomas Keith, and he sent me a letter that Tennessee wrote to Truman at the very end of his life where he just was really making sure that their friendship was OK. We included some lines of it toward the end of the film. It was so beautiful because, I guess that's the one thing I felt with Tennessee, there was a transparency in him that he was really true to himself and his feelings, whether his feelings were good or bad.
CM: Having researched them and read their work in such great depth, were you more drawn to one over the other?
LV: I've known Truman because he's been part of all my other films. He was friends with Mrs. Vreeland and he was really good friends with Cecil Beaton, and he also knew Peggy Guggenheim—all these worlds are completely interlinked. Of course, I knew about Tennessee Williams' works, but I didn't know about him and it was just an absolute pleasure to delve into him as a person. He wore his feelings very much on his sleeve and he didn't hide anything, and that's what I liked about him. With Truman, you always had to question what he was saying because he was on the make and Tennessee was not. There was a lot I didn't know about Tennessee, a lot of it was a discovery for me. I didn't realize that he suffered from depression as much as he did; he really did get the mean blues. But he did pick himself out of it and he still wrote and created every day. There was a perseverance and something about his inner strength that kept propelling him forward. There was something about Tennessee, about that smile, that captured me immediately, and there was always something about Truman that was not as honest, not as transparent. I knew that about his character, but I really had to balance him out in the film.
CM: There are no talking heads in the film. The narrative is made up of Truman and Tennessee's own words—in their work, in letters and in interviews. What led you to structure the film in this way?
LV: This was such a unique way to be able to tell this story of these two men and their friendship and of this little moment in time. I loved the idea of not having talking heads, it just didn't feel right. What is more authentic than their own words? I feel that brings you much closer to them and you feel like you're sitting there in the room with them. I feel that it actually authenticates a story much more, because I guess I could have had some younger writers talk about the influence of Capote and Tennessee, but that didn't interest me. The word authentic is something that really resonates in my vocabulary. When I make a film, I really want to be able to use the material of the time that is the most authentic. I want that world to come alive for the viewers and I think that in using their own words, there's nothing stronger than that. I like the feeling of intimacy because our world is so un-intimate. It's a world where people are barely looking up from their phones. I want people to take a moment to look and to really reflect on what these lives were about back then.
CM: How did Zachary Quinto and Jim Parsons get involved with the film?
LV: They were the dream team that I had in mind, and the fact that they agreed to do it was really nice. It was very generous on their part to agree to be part of it. I think that they're both actors who were really motivated by these words. I know for a fact Zach has read every book out there on Tennessee Williams. He's really been thoughtful about his approach, and it was the same thing with Jim. I think that all generations will now want to embrace this world. Because Tennessee and Truman, these are the men of great words, and I think it's great when actors like that, who are so important worldwide, want to be a part of something like this.
CM: Finally, how important still are the works of Tennessee Williams and Truman Capote? Why do you think they remain so relevant?
LV: I think that Tennessee Williams' work is part of our vernacular because he really put emotions out there and spoke about them in a way that was never done before. It's affected all parts of our world; it's not just the theatrical world, but the world of the arts. It's not quite the same thing with Truman because he didn't have so much of a theatrical and an inner-life, but he really portrayed a New York and an America that will never be the same. The way that he wrote and he described everything in his life and his books—writers just don't capture it like that anymore. If you take a book like In Cold Blood, it doesn't matter when you pick that up. It's an absolute masterpiece that just gets into you. You have to think about those kinds of books that stay with you, that get into your psyche immediately within the first three pages.
"Truman and Tennessee: An Intimate Conversation" will be screened by the Tennessee Williams New Orleans Literary Festival at 7 p.m. Sunday, March 28. Tickets are $5 and available here. The film will also be released theatrically by Kino Lorber on June 18.
Cerith Mathias is a journalist, TV producer and festival director based in Wales, UK. She writes on arts and culture, with a particular interest in Southern literature. She's a founding director of Cardiff Book Festival in the UK and has produced TV and radio programs for the BBC. Read her blog here and more of her work in Deep South here.