Talking Tennessee: An interview with Augustin J. Correro
As part of the Virtual Tennessee Williams/New Orleans Literary Festival, author Augustin J. Correro will host "Tennessee Williams 101" on March 27.
by Cerith Mathias
A new biography of Tennessee Williams has been released by publisher Pelican Publishing in time for this year's Tennessee Williams New Orleans Literary Festival, an annual event held to celebrate the playwright. Written by Augustin J. Correro, the co-founder and co-director of the Tennessee Williams Theatre Company of New Orleans, Tennessee Williams 101 is an accessible and entertaining look at the playwright's life and work based on Correro's popular lecture of the same name, which has itself become an annual highlight of the festival. Both the lecture and the book will be featured at this year's online festival, along with a special performance by Correro's theater company of "The Felt Menagerie", a Tennessee Williams-style puppet comedy.
Cerith Mathias caught up with Augustin J. Correro over Zoom ahead of the festival to talk about championing Williams for today's readers and theater-goers, the draw to New Orleans and why Williams' work still matters.
Cerith Mathias: Where did the idea for the book come from?
Augustin J. Correro: Every time that I gave the lecture, whether it was in Provincetown or New Orleans or St. Louis, someone would come up to me and say, 'This would make a great TED talk,' or, 'I wish this was in a book somewhere, it's so easily accessible, I didn't know anything about Tennessee Williams and now I do,' or 'I knew a good bit about Tennessee Williams, but this was such a good primer for my week or weekend at the festival.' There are so many really great books about Tennessee Williams, but most of them average over 400 pages, which can be intimidating for a lot of readers. So creating this more accessible version of the Tennessee Williams biography, which is for everyone to see, not just dyed in the wool Tennessee Williams fanatics, was really the genesis of the book.
CM: You say in the book that Tennessee Williams' work has come to be thought of as "specialist" and your aim is to smash the glass museum case that has been built up around him. Has Williams, at one time America's most celebrated playwright, fallen out of fashion?
AC: A glass museum case does creep up around anything after a number of years and we begin to look at something as antiquity even if it's only a few decades old, because as our interests accelerate and our attention spans shrink, it's quite easy for us to think of someone who was with us only as recently as the 1980s as almost ancient history. But the other thing that happened, as I describe later on in the book, there was a chilling effect created when Tennessee Williams' estate was very restricted following his passing because of the executrix of his estate, the Lady Maria St. Just. She was controlling of how his material was presented and of who was able to lay hands on it. Any time you restrict who can access literary works, that has a negative effect on its accessibility, it becomes inaccessible, it begins to feel like something that doesn't belong to the living anymore. Which fortunately changed when the estate passed out of her control and so now we can see more productions and conversations around Tennessee Williams that previously we had not been able to.
CM: What do you think Maria St. Just's reasoning was for the way she controlled his image after his death?
AC: I am a believe the best in people kind of person. Even the worst types of people, I believe in the best version of their intentions and so I really want to think that she was trying to preserve and exalt his work and his reputation. I think that she simply had a myopic view of what that was. There was material that I think she imagined would be misunderstood or misinterpreted that she felt should not be brought to light. So for 10 years after he died, his work wasn't able to be honestly discussed. That's a considerable amount of time.
CM: You describe Tennessee Williams' life as "magnificent" and "messy." His personal life and his life as a gay man certainly came in for a lot of scrutiny and unfavorable comment, something he believed contributed to critics marginalizing him at the latter stages of his career. Do you think he was a victim of the prejudices of his era? Would he have faced the same kind of backlash today?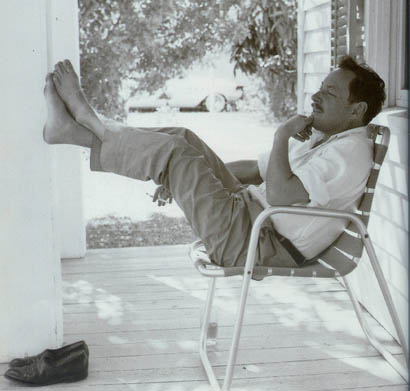 AC: Almost certainly he wouldn't have. And the reason being that many of the stumbling blocks that he fell upon, we have not had to fall upon today because someone fell upon them first. In many cases it would have been Tennessee Williams or Truman Capote or Gore Vidal and so on and so on. Individuals who grappled with addiction in the public eye, individuals who grappled with the exigencies of being gay in a period when it was illegal. So those parts of his character would have perhaps not had the same targets on them now as they did then, but I do think that the critical reputation portion of it might still have been a challenge, because he challenged his own methods and he challenged his own aesthetic and whether it's a screenwriter or whether it's a visual artist, any time you switch it up, the risk is there, that someone will have a negative reception for that change because we like putting people in boxes. So, I think that that part would have still been there, but certainly not the same degree of homophobia and stigma associated with his trials and tribulations.
CM: In the book, you say that as a teenager you rejected the idea that as a Southerner, you had a duty to like Tennessee Williams' work. What made you change your mind?
AC: It all started with those expectations that I was supposed to like Tennessee Williams because I was from the Mississippi Delta, so I made up my mind that I didn't like him. But then a teacher I really liked at the University for Women in Columbus, Mississippi, was teaching a 'Tennessee Williams and Women' course, so I signed up for the class. She said, 'Well, you're here for this whole semester, you should probably try to get on board, because otherwise you might be miserable.' She challenged me to look at Tennessee Williams in a different way, so I changed the lens through which I looked at it, and that's when I really fell in love with the story of his life and also began to truly appreciate his work. So it really was the good work of a good teacher that changed my mind. But I had to discover it on my own terms, rather than discovering it because I was expected to enjoy it.
CM: So you went from a newfound appreciation of Tennessee Williams to then setting up a theater company in his honor. Why did you choose New Orleans as its home?
AC: I'd always wanted to live in New Orleans, even going back as far as the year of my first Tennessee Williams/New Orleans Literary Festival in 2006, which would have been the year I graduated but also the year following Katrina, so New Orleans wasn't a tenable situation for a young person wanting to get into the theater at the time. So, I had to take a detour. I moved to New York, I then went on to Richmond, Virginia, and the whole time I had this draw to New Orleans. And so finally I made the decision with my husband to relocate and he had the great idea we should start a theater company. 'I already know the name of it—The Tennessee Williams Theatre Company of New Orleans.' I said, 'Well, yes—why doesn't this exist already?' So we spent a few years right after we moved getting to know the landscape, becoming involved in the theater community before finally establishing the company. It was the love that we both have for Tennessee Williams and also for creating theater and making opportunities for artists that all culminated and this was the place to do it, because New Orleans and Tennessee Williams are intrinsically linked.
CM: There's a wealth of his work to choose from. Do you have a favorite play or one act that you enjoy putting on more than others?
AC: I love a number of the plays and I go back and forth between, for example, 'A Streetcar Named Desire,' 'Night of the Iguana,' 'Summer and Smoke,' but the one I've spent the most time on and continue to go back to is 'Suddenly Last Summer.' I've done a couple of productions of that. I've been in another production of it back in Richmond and so just because I've spent that much time on it and gotten to know it, it's kind of like an old friend—a very disturbed old friend, but an old friend.
CM: Yes, perhaps the kind of old friend you wouldn't have around for dinner too often! I noticed too that your company chooses lesser-known works by Williams and is bringing those back into prominence. Is that something that's important to you?
AC: It is. Because of the critical reputation he had during his lifetime, he didn't get the props for some of the plays that he perhaps deserved. One of my favorites is 'Small Craft Warnings,' which is seldom produced. It really is a truly beautiful piece of theater and hilarious and many things that you don't expect with Tennessee Williams; it's not set in the South, it's set in Southern California and is just unlike so many of his other plays and yet it's a wonderful piece. So I want people to be introduced to Tennessee Williams with that breadth of work that you may not be expecting and you certainly aren't expecting the styles.
CM: Society's expectations of women and girls feature heavily in Williams' work, with iconic characters like Blanche DuBois and Maggie the Cat famous the world over. But you also pick up on the women behind the scenes who helped him become the playwright we all know today. How influential were these women to both his style and his meaning?
AC: Strong women and women who put on strong fronts were integral to his formation as a person and as a writer. I mention characters in his life like Audrey Wood (his agent for most of his career) and Molly Thatcher Kazan (credited with discovering him), his mother Edwina as well as his sister Rose, she had her own morass to get through before tragedy struck her in the middle of Tennessee's life, and so he always had this fixation on these characters that were so misunderstood. I think especially in the modern era in which he wrote, women were at this turning point in society as having been seen in one light and being refocused in another. That definitely caught his attention; he wrote that because it was a moment in the conversation. Obviously, there are women writers who write just as honest and more honest interpretations, but women actors that I work with say, 'I love doing Tennessee Williams' female roles because they are such good roles, period.' I think that's because he understood people and he was interested in showing all the facets of a person, which was at the time very uncommon. He was for marginalized individuals and groups. He was anti-racist, he was for gay liberation, he was for representing women in a way that exalted them and showed them as full humans, not as this vestigial property.
CM: Finally, what's the one take-home fact you want the readers of your book to have about Tennessee Williams?
AC: Tennessee Williams belongs to everyone. He doesn't just belong to the South, he doesn't just belong to gay folks, he doesn't just belong to especially white folks. Tennessee Williams is alive in the same way that every other great playwright is alive and just begging to be performed and introduced to new people.
"Tennessee Williams 101" with Augustin J. Correro takes place online on Saturday, March 27, from 2- 3 p.m. Tickets are $5 and available here.
"The Felt Menagerie" is available to view anytime from March 26 through April 5. Tickets are $10 and available here.