All the Reasons to Visit the South Post-Pandemic
The Covid-19 pandemic has led to many restrictions and impositions for the general public, but the one that's been the hardest to swallow is not being able to travel. People yearn to stretch their legs, socialize and see new places again. Needless to say, we can expect an increase in tourism and travel as the pandemic winds down. So, if you are of one those free-spirited folks that like to see where the road will take you, you might want to consider touring the South.
The Deep South includes states like Alabama, Mississippi, Georgia, Louisiana, and South Carolina. These are also known as "the cotton states" due to their complicated history of slavery. With their rich history, in addition to culture, food and landscapes, the Deep South states make for a one-of-a-kind travel experience.
Below are some of the region's most sought-after attractions that can be visited by road or train any time of the year.
The Smoky Mountains
The Smoky Mountains of eastern Tennessee and western North Carolina are talked about for their enchanting, smoky haze, considered to be a sacred spot for the Cherokee Indians. Smoky Mountains National Park has a rich biodiversity and is famous for its wildflowers, scenic drives, destination hikes, horseback riding, grotto, and Abrams, Laurel and Rainbow waterfalls. People love to camp in the Deep Creek Campground, and visitors love to reach the summit of the Clingmans Dome for a full view of the blessed Smokies.
Cuisine
Food in the Deep South is rich in history and flavor. You will experience a true culinary adventure and surprise your tastebuds with food exploration in this region. Southern food includes indigenous Native American staples like grits (cornmeal porridge), African influences like okra and red rice, and Spanish-inspired jambalaya and red beans and rice.
Be sure to try gumbo, a soup typically made from shellfish or meat and bell peppers, celery and onions—known as the Holy Trinity—which gets its origins from West African, European and American Indian food. The Deep South is also famous for its seafood specialties, like oysters, catfish, crab and shrimp. You could visit Kentucky and get a feel for the origins of the infamous Kentucky Fried Chicken or even try the "hot" fried chicken in Nashville. You could also just stick with barbecue, a vast food category itself in the South.
History
The Deep South has plenty of history, right from the historical footprints of the original Native Americans to the European settlers, era of slavery and Civil Rights protest sites. You could also explore colonial cities and learn about their influence on the area.
Atlanta, also known as the "Big Peach," is the birthplace of the American Civil Rights Movement. Check out the Jimmy Carter Library and Museum, National Center for Civil and Human Rights and the Margaret Mitchell House & Museum. You can also get a taste of Southern history at the Charleston Museum in South Carolina, the American Cave Museum in Kentucky and the Louisiana Museum of Natural History.
Music, Art and Architecture
The Deep South is home to the famous Elvis Presley, jazz, the blues and antebellum architecture. Lots of museums pay homage to the South's musical history, including The Musicians Hall of Fame and Museum in Nashville, the Stax Museum of American Soul Music in Memphis or the Delta Blues Museum in Clarksdale, Mississippi. Take a guided tour of Sun Studios in Memphis, the birthplace of rock 'n' roll, and Elvis's former home of Graceland. You can also hit Beale Street in Memphis or follow Mississippi Blues Trail throughout the state. Many festivals, including the Mighty Mississippi Music Festival and Jackson Indie Music Week, are also a reason to visit.
For architecture, Louisiana's Plantation Country is the place to see stately antebellum homes, art and gardens, and learn about the history of slavery at places like Oak Alley and Whitney Plantation.
Ghost Tours
Savannah, Georgia, is regarded as one of the most haunted places in America. If you are fascinated by spooky stories and paranormal activity, then this is the city for you. Visitors love night-time walking tours and tales of yellow fever epidemics, fires and heartbreak. New Orleans has plenty of ghosts of its own, along with a network of cemeteries to visit. It's actually tough to find a Southern city without a few ghosts, so just ask around wherever you are and you're sure to hear some spooky tales.
The Kentucky Derby
The Kentucky Derby is America's longest-running sports event. It is popularly known as the "Run for the Roses." Place a bet on a horse and sing along with the crowd while sipping on mint juleps or bourbon as the horses run to the finish line. Southerners love to bet on the Derby, but when it comes to gambling, the laws are still very strict in many states. Some Southern states are now allowing for online casino games, and Southerners may soon find themselves playing slots on Mike Brown's website in larger numbers.
Cruise the Mississippi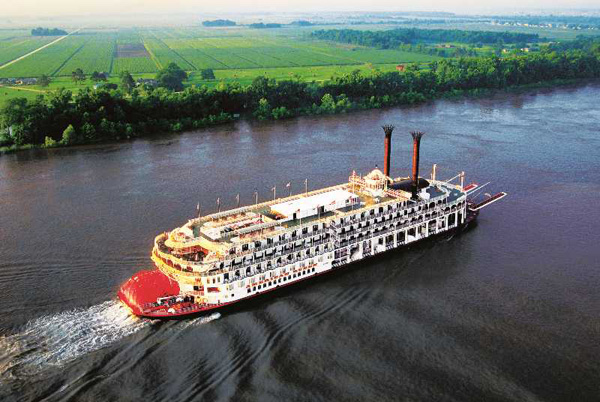 If you want to take a break from fast-paced, modern living, take a cruise down the Mississippi River. Hop aboard a cruise ship in cities like Baton Rouge, New Orleans or Memphis to enjoy gliding past majestic plantations, historic sites and beautiful scenery. All the years of the South's history will pass you by as you cruise along, so soak it up and create lasting memories.