10 of the Top Colleges and Universities in the South
To enter your dream college in your chosen region, you need to have the right information. What schools and degrees are offered by universities, where student life is more active, how much tuition will cost and so on will ultimately determine your choice. You should also know what will increase your chances of entering your dream college.
For example, membership in the National Honor Society used to be a prerequisite for entering the most prestigious schools. Now, this is not a mandatory requirement, but it is still a significant advantage. Therefore, high school students should think about joining the NHS and looking for tips and examples of a national honor society essay that will convince the admissions committee that you are worth membership there.
There are numerous ratings—specialized and student, national and international. Each of them calculates the score according to their own algorithms. To form this list of the best universities in the South, we decided to focus on the national ranking of universities in terms of the quality of education in U.S. News & World Report.
In order to make it easier to choose a college, we have selected information according to the following criteria:
Number on the National Academic Scale
Tuition and fees
Acceptance rate
Notable alumni
Best specialties/schools
1. Duke University, North Carolina
Duke University is a private institution that has been able to achieve incredible educational success in recent years. It is located in Durham and has about 6,500 students. The New York Times conducted research and a survey of employers, the results of which indicated that the university was ranked 9th in America in demand for graduates and 13th in the world.
This institution is ranked 12th on the National Academic Scale. The total cost of tuition and fees is $60,000 a year. It is quite difficult to get in here; the acceptance rate reaches only 8 percent. The university is famous for its notable alumni, including 37th President of the United States Richard Nixon, brilliant basketball player Carlos Boozer and Congressman Ron Paul. Duke is also known for its impeccable schools, which are some of the best in the country and include:
Sanford School of Public Policy
Fuqua School of Business
School of Law
Pratt School of Engineering
School of Medicine
School of Nursing
2. Vanderbilt University, Tennessee
This Nashville university gives its 7,000 students the opportunity for an active social life, including participation in Greek organizations on campus. Vanderbilt is ranked 14th on the National Scale. Tuition here will cost students $54,000 a year.
The acceptance rate is only 1 percent higher than Duke, therefore, those wishing to study here need to approach the preparation of introductory documents very seriously. The university has produced many celebrities, including businesswoman Ann S. Moore, professional bodybuilder Jay Cutler and detective fiction author James Patterson. The best schools here include:
Peabody College of Education and Human Development
School of Medicine
Owen Graduate School of Management
Law School
School of Engineering
School of Nursing
3. Rice University, Texas
Nearly 4,000 students study at Rice University, which is located in the scenic center of the Houston Museum District. Rice offers bachelor's, master's and doctoral studies, and it is possible to take short-term and additional courses. Incredibly popular sports teams, dynamic student life and 11 residential colleges are just some of the advantages of this university.
Rice University is two steps lower in the national rankings. Students will have to pay a little over $50,000 a year to study here. The chances of joining Rice are exactly the same as those at Vanderbilt—9 percent. Peggy Whitson, the first female commander of the International Space Station; Josh Earnest, former White House spokesman; and writer Joyce Carol Oates graduated from the university. Among Rice's best schools are:
Wiess School of Natural Sciences
School of Humanities
School of Social Sciences
Jesse H. Jones Graduate School of Business
George R. Brown School of Engineering
4. Emory University, Georgia
Emory University is privately owned and teaches more than 7,000 students not far from downtown Atlanta.
Most students live on campus for all four years of study. Experts in the field of education advise considering this university for those who want to lead an active student life. The Greek community, student organization Volunteer Emory, Emory Eagles team and a mandatory two courses of physical education await students at this university.
Emory is No. 21 on the National Academic Scale. To study at this university, students must pay $54,000 a year.
The chances of joining here are 16 out of 100. Prominent graduates of this institution include fashion designer and philanthropist Kenneth Cole; minister and youngest child of civil rights leader Martin Luther King Jr. Bernice King; and NBC and ABC announcer David Brinkley. The best schools at Emory are:
Business School Goizueta
Law School
Medicine School
5. University of Virginia, Virginia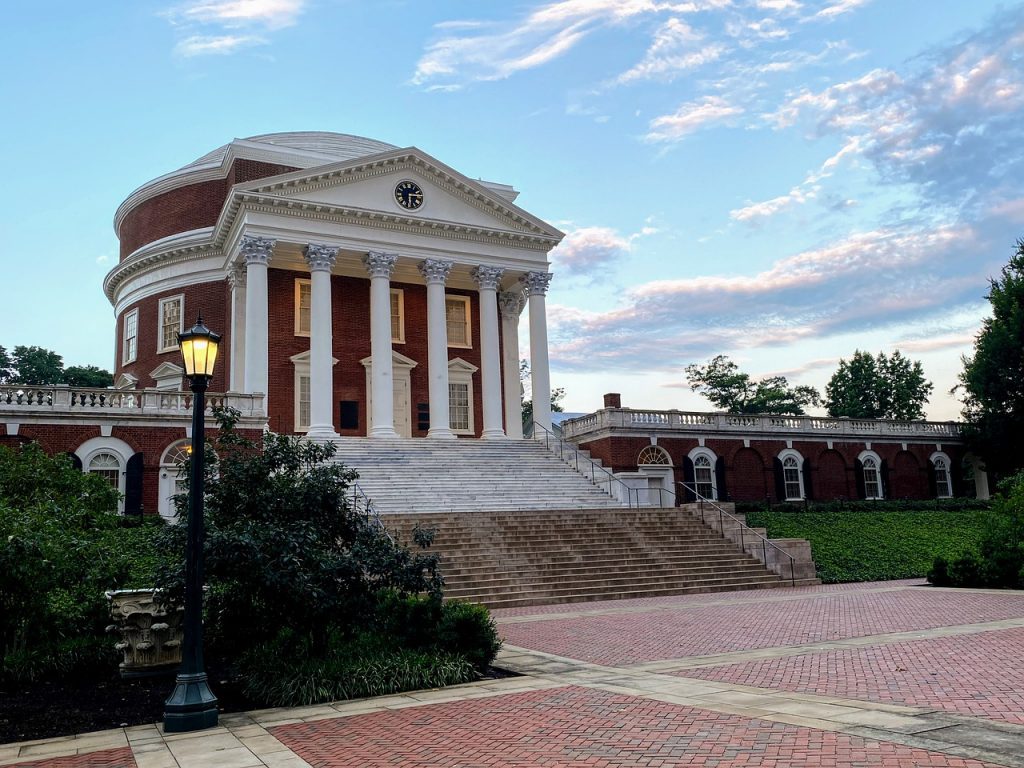 This institution, located in Charlottesville, was founded by the legendary Thomas Jefferson. The total number of students reaches 17,000. The university library is famous for its unique Albert and Shirley collection. That's where Dunlap Broadside is stored, one of 25 original copies of the "Declaration of Independence."
The University of Virginia is located 26th place in the national rankings, and tuition and fees are $53,000 a year.
Well-known journalist Katie Couric, former Senator Edward Kennedy and football player Tiki Barber graduated from here. Compared to previous universities, UVA has a much higher acceptance rate at 24 percent. Popular schools include:
Darden Graduate School of Business
School of Law
Curry School of Education
School of Medicine
School of Engineering and Applied Science
6. University of North Carolina at Chapel Hill, North Carolina
Almost 20,000 students study at this public institution, which includes the WXYC student radio station, the UNC newspaper and The Daily Tarheel. Chapel Hill is ranked 28th among the most popular universities in the country.
Tuition here is cheaper than previous universities listed at $36,000 a year, and the acceptance level reaches 23 percent.
Chapel Hill is the alma mater for Rick Fox, a basketball player and actor; James K. Polk, eleventh president of the United States; Michael Jordan, the best basketball player of all time; and John Edwards, a former U.S. senator The university provides quality education through its:
School of Education
Kenan – Flagler Business School
School of Law
Gillings School of Global Public Health
School of Medicine
Eshelman School of Pharmacy
School of Government
School of Social Work
7. Wake Forest University, North Carolina
One step lower in the rankings is the private University of Wake Forest, located in Winston-Salem. It educates more than 5,000 students, and six schools produce high-quality lawyers, health professionals and businessmen. Wake Forest's sports team is the Demon Deacons.
Wake Forest is ranked No. 29 on the National Academic Scale. Tuition here is quite expensive, as one academic year costs $58,000. At the same time, among all 10 universities, this one has one of the highest levels of acceptance at 30 percent. Among the most famous graduates of Wake Forest are journalist Al Hunt, the lowest American basketball player Muggsy Bogues and one of the most prominent golfers Arnold Palmer. The best schools are:
Peabody College of Education and Human Development
School of Medicine
Owen Graduate School of Management
Law School
School of Engineering
School of Nursing
8. University of Florida, Florida
More than 35,000 students attend this public institution, which is about two miles away from downtown Gainesville. University of Florida boasts The Florida Gators as part of the "Gator Nation." Despite the fact that freshmen do not have to live on campus, most of them want to.
No. 30 in the National Ranking, University of Florida has the cheapest tuition among our top 10 universities at $29,000 a year. Thirty-seven out of 100 applicants are accepted here. The most notable alumni of this school are Tim Tebow, a former football player and two-time national champion; showman Bob Vila; and politician Marco Rubio. Florida's best schools are:
Herbert Wertheim College of Engineering
Warrington College of Business
College of Medicine
Levin College of Law
9. Georgia Institute of Technology, Georgia
This prestigious educational institution in the center of Atlanta has branches in France, Singapore, China and Ireland. At the institute, 19,500 students are trained, and there are only 900 teachers. The Georgia Institute of Technology has become world-famous and ranked among the top technical institutions for its scientific studies and research. Doctors of science with students are working on robotics, intelligent machines, neuroengineering, nanotechnology, environmental access systems and nuclear testing.
This institution is located 35 in the national ranking. Tuition and fees cost $34,000 a year, and only one out of five students gain entry. The list of the most famous graduates is headed by Mike Duke, a famous businessman and former member of the National Academy of Engineering; Bobby Jones, one of the most successful amateur players in the history of golf; and Nomar Garciaparra, a major league baseball player. The best schools at GIT are:
College of Engineering
Scheller College of Business
10. William & Mary, Virginia
William & Mary is a public institution located in Williamsburg that enrolls more than 6,000 students. It is the second-oldest college in the United States. The last in our ranking and 39th on the National Academic Scale is where this small university falls. Despite this, tuition here will cost a considerable amount at $46,000 a year. But the chances of entering are the highest as the acceptance rate is 38 percent.
As many as three former U.S. presidents studied here, including Thomas Jefferson, James Monroe and John Tyler.
The best schools at William & Mary are:
Marshall-Wythe School of Law
Mason School of Business
School of Education
Summing up the comparison of universities in the South, we conclude that the most expensive is Duke University, and the cheapest is the University of Florida. Duke has the lowest acceptance rate, while William & Mary has the highest. The best business and medical schools are at the University of Virginia and Duke; the most powerful law schools are at Duke and Vanderbilt; and the most prestigious engineering schools are located at Duke, Vanderbilt and Rice. Regardless of the position of these universities in the national ranking, each of them boasts a significant number of notable alumni.