To Tell the Truth: An Excerpt From 'Rosa Parks Beyond the Bus'
Rosa Parks Beyond the Bus: Life, Lessons, and Leadership released on Juneteenth and is a collection of inspiring memories compiled from the decade that Rosa Parks was a guest in author H.H. Leonards' home in Washington, D.C. The NAACP contacted Mrs. Leonards after Mrs. Parks had been attacked in her home in Detroit and needed a safe place to heal, emotionally and physically.
This fateful call led to a 10-year friendship with the Mother of the Civil Rights Movement. The two learned from each other and found common ground, despite their differences—Parks was an elderly, Black civil rights leader, while Mrs. Leonards was a young white woman at the start of their friendship.
Nashville-based R.H. Boyd Publishing, one of the oldest Black-owned publishers in the U.S., released the book on June 19. Below is an excerpt
To Tell the Truth*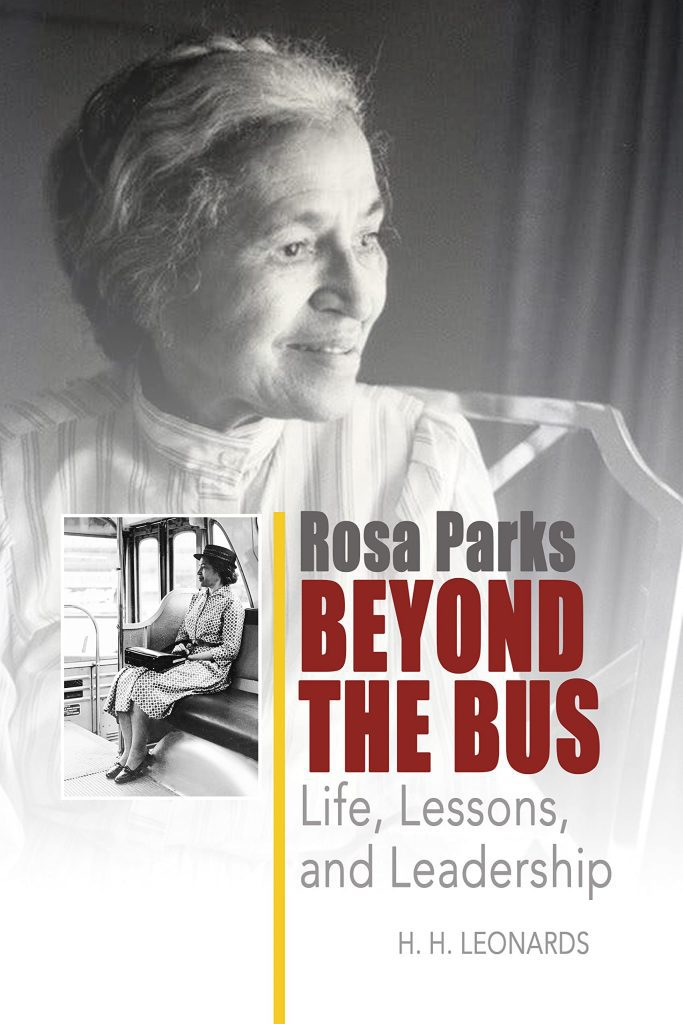 I had a lot of fun teasing Mrs. Parks about being on the popular TV show, To Tell the Truth. I have re-watched her segment several times and each time I see it I love it more. It's a fun slice of history. It also brings home the adage that you can never select who becomes famous. Stuff just happens.   Mrs. Parks very much enjoyed being on this show. She told me that anytime she was asked to tell "her story" she would seize the moment and say, "Yes." She believed that the television shows she was on, the movies she was in, as well as the gatherings, meetings, and conferences she attended were never about her. They were simply opportunities to have people hear her story so that her message could be heard on different occasions, to different people.   She told me many times that if people could meet her, perhaps their hearts would change and they would be more open to the concept of human dignity for everyone, no matter their economic, cultural, religious, or racial background. She astutely knew that while the law can change, real progress doesn't occur unless you reach people's hearts. And that's what she set out to do.   To me, that defines a truly great person.

Speaking of truth, Mrs. Parks debunked the myth that she refused to vacate her seat because she was simply too tired to get up after a long day at work.   I was often present when she recounted for others the details of December 1, 1955. Whenever she wrote or when she talked to groups, she would correct the historical inaccuracies about her, saying that history should be accurate.   "I was not tired physically," she would say in her beautifully slow Southern drawl, "or any more tired than I usually was at the end of a working day. I was not old, although some people have an image of me as being old then." When she told her story to others, she would always pause here, for emphasis, as she could watch the surprise in people's eyes. "I was only 42." Mrs. Parks would stop here and take a deep breath. "No, the only tired I was, was tired of giving in."   She told me that as she sat on the bus she remembered the photographs of poor Emmett Till, which haunted her and she could not move. One hundred days after the murder of young Emmett, Mrs. Parks refused to give up her seat on the city bus in Alabama. She said, "I thought about Emmett Till, and I couldn't go back (to the back of the bus)."   The teenage boy being brutally and unjustly murdered by two White men had weighed heavily on her heart. Later, she became very close friends with Mamie Till-Mobley, Emmett's mother, who visited frequently when Mrs. Parks lived with me at The Mansion.   Mrs. Parks and Mrs. Till-Mobley were tireless civil rights activists and the dearest of friends. Mrs. Till-Mobley always stayed in the Country Room when she visited. They would spend hours talking in the kitchen outside Mrs. Till-Mobley's beautiful white and blue flowered bedroom. The room features a private balcony overlooking the quiet, tree-lined street below. When the weather was nice, the two would sit there. They frequently would tell me they didn't understand how we were in the center of D.C., yet the street below was so quiet.   Another myth associated with Mrs. Parks and December 1, 1955 is that she had taken a seat in the section designated "Whites only." She actually was seated in the first row of the "Negro section" allotted to colored people, Mrs. Parks would explain. However, the city's segregation law stated that once the White section was filled, space could be taken from the seats designated for African Americans. She violated the law by refusing to move from her seat to accommodate a White male passenger who had boarded.   I heard her sigh so many times, sometimes very heavily, as she was forming her words, so what she said was never out of character, and most importantly, never about her. She rarely complained; she would only smile as she endeavored to tell the truth and set the record straight. And yet, no matter how many times she consistently told this story, the press would write that she was an older woman who was simply too tired to get up after a hard day of work and sat in the first seat she could find.   Another myth repeated frequently over the years was a particular anathema to her. Her action on the bus "that day" has been characterized as a "premeditated act of civil disobedience." It was not. Mrs. Parks was adamant about this.   Although she knew that the NAACP was looking for a lead plaintiff to test the constitutionality of Jim Crow laws in the South, she did not set out to be arrested on Cleveland Avenue bus #2857 that day.   Mother Parks told me that she knew the bus driver, and that had she been paying attention to his face rather than fumbling for money in her purse, she would never have gotten on that particular bus. She'd had a previous unpleasant encounter with bus driver, James Blake, and was afraid of him.   In 1943, Mrs. Parks had boarded a bus driven by Blake. She entered the front door of the bus, paid her fare, and proceeded to take a seat. Blake told her to disembark and enter the bus again from the back door, which was a rule imposed by some of the drivers. She got off and decided to wait for the next bus rather than enter through the rear door. She vowed to herself to never ride with Blake again.   According to Mother Parks, James Blake later claimed, "She ruined my life." Several news accounts paint a picture of an embittered Blake, who apparently felt he had been maligned and misrepresented by the media.   When Blake died in 2002, a reporter asked Mrs. Parks to comment. Gracious as ever, she replied, "I'm sure his family will miss him."   She told me one day: "I had no idea when I refused to give up my seat on that Montgomery bus that my small action would help put an end to the segregation laws in the South. I only knew that I was tired of being pushed around. I was a regular person, just as good as anybody else. There had been a few times in my life when I had been treated by White people like a regular person, so I knew what that felt like. It was time that other White people started treating me that way."   She also told me that she didn't know how much being in jail had upset her—until she got out. She recalled that her feelings were akin to her reaction when some people came to her house with newspaper photographs of the charred body of Emmett Till.   Despite the many ways her life was impacted because of that day, Mrs. Parks looked back on it and said: "God has given me the strength to say what is right. Getting arrested was one of the worst days of my life. It was not a happy experience … I had no idea that history was being made. I was just tired of giving in. Somehow, I felt that what I did was right … . I did not think about the consequences. I knew that I could have been lynched, manhandled, or beaten when the police came. I chose not to move. When I made that decision, I knew that I had the strength of my ancestors with me."
---
*Excerpted from Rosa Parks Beyond the Bus: Life, Lessons, and Leadership. Copyright ©2022, R. H. Boyd Publishing Corporation. Used by permission for editorial purposes only.