Interview with 2022 Louisiana Writer Award Winner David Armand
This Saturday, October 29, David Armand is set to receive the 23rd Louisiana Writer Award at the Louisiana Book Festival in Baton Rouge.
Louisiana native David Armand has published four novels, one memoir and two collections of poetry. He currently resides in Hammond and is a beloved assistant professor at Southeastern Louisiana University, where he was formally a writer-in-residence from 2017-2019. His novels include The Pugilist's Wife, Harlow, The Gorge andThe Lord's Acre. His memoir is My Mother's House, and his poetry collections are The Deep Woods, Debt and The Evangelist, published at the beginning of October.
Armand's latest book, Mirrors, a collection of interconnected essays, will be published by the University of Louisiana at Lafayette Press in 2023. He has also completed a fifth novel, Walk the Night, as well as a craft memoir, Gardens, which details his journey from growing up in a small Louisiana town to becoming a nationally recognized writer. In addition, he's written a full-length play, Late Shift, which is about his time working as a telemarketer.
Armand is the 23rd recipient of the prestigious Louisiana Writer Award, presented to recognize outstanding contributions to Louisiana's literary and intellectual life exemplified by a contemporary Louisiana writer's body of work.
Isabella Bairnsfather, a student at Southeastern, had the pleasure of interviewing Armand in person recently.
Isabella Bairnsfather: First I want to say congratulations! How do you feel?
David Armand: It's still kind of unreal. I don't think it'll feel real until I actually just hold the award. I have to give a speech and all of these writers and important people will be there. It's been really neat to see people just being happy for me. You know, sometimes people in the art community can be kind of cruel. Most people have been really nice and been like 'Oh, congratulations!' Hopefully, more good things will come from it.
IB: Take us a little bit through your career. How did you get here?
DA: I started writing in college as an undergraduate and taking poetry classes, and I wanted to be a poet. So, I came here to Southeastern and I took Jack Bedell's class. And then I decided to come to grad school here and took more of Jack Bedell's classes and studied with Tim Gautreaux, and Norma German was another teacher I had who kind of turned me onto writing fiction. So, I started writing short stories and it felt like a natural progression to me because I started with the real short thing—with a poem. I started writing a novel in grad school. When I finished grad school, I was tutoring here [at Southeastern] and teaching, so I kind of used that time to finish the novel and then just started sending it to agents and then contests. I sent it to a contest, and the guy from Texas Review called, and I didn't answer because I didn't know the number and he left a message and he said, 'You know, I just want to let you know your book is a finalist. I'll call you next week to let you know the results.' I thought he probably just called everybody who entered to tell them to make them feel a little bit better. And then he called me back a week later and I was so nervous I didn't answer the phone again, so I called him back and he said my book won.
IB: And this was your first book?
DA: Yeah, my first one, The Pugilist's Wife. The other part of the prize was they would publish it. That was in 2010 and then it kind of just went from there. And before that, I had submitted it to a bunch of contests and it had gotten like second runner-up at the Faulkner Festival (it's called something else now), but they were great and they invited me back to come to the conference at the Hotel Monteleone and I got to meet agents. So then I started to think maybe this is really something that could be published, so that kept me submitting it and sending it, and now this!
It was weird because the first time I went to the Louisiana Book Festival for that book, the book was supposed to be out in October, but there was some kind of delay at the printer, so when I went to the festival for the first time to talk about my first book, I didn't even have the book. At the end, they want you to sit at the table and sign, so I sat at the table with no book. I just went with it and then, I think people kind of noticed that and then they invited me back the next year. They've just been really, really supportive.
IB: What does winning the Louisiana Writer Award mean to you exactly?
DA: You know, I was born here, and after Jim Davis (he's the director of the state library), after he called me to tell me that I won, I cried for a while. After that was over with, I started thinking, wow, I've never been outside of Louisiana for more than a couple of weeks—and it was when I went to a study abroad trip when I was in undergraduate—so I guess the upside of that is that I feel like I'm completely enmeshed in Louisiana, for better or for worse. But the cool thing is now the state is recognizing me, because it could've been any other award, but I don't think it would've meant the same thing.
IB: So, what do you think sets your writing apart from the other candidates?
DA: Well, I think partly, because some people who have gotten this award before not all of their work is set in Louisiana … but for me, every single thing I've written takes place in Louisiana. It's like a core aspect of it. It's almost like Louisiana is a character in all of my books. And I'm not saying necessarily that sets me apart, because like Ernest Gaines was the first person to ever win this, which is kind of strange and amazing. But, you know, all of his work took place in Louisiana, except for like two short stories that he wrote when he went to Stanford. But he moved back after that and said he would never write about any other place.
I know I'm not the only person who has gotten this who is solely like 'Louisiana, Louisiana, Louisiana,' but I couldn't imagine writing about another place. I do think that is part of the distinction, or maybe they noticed that about my books. Like, wow, every single thing this guy writes takes place in Louisiana. My book that's coming out in the spring is going to be published by the University of Louisiana at Lafayette Press. So, now, even one of my books will be published by a Louisiana publisher.
IB: What sort of thematic elements do you typically use in your writing to gear it toward Louisiana literature?
DA: I grew up in a little bitty town and I was adopted, so in my adoptive family's house there were no books, but I always had this innate interest in reading. I later learned when I found out who my parents were, that that's where I got it from, which is interesting because of the whole idea of nature vs. nurture because I wasn't 'nurtured' to be a writer. I guess it was in my genes to be interested in books. So, I grew up in a small town, blue-collar family, and I went to schools with kids whose families were all farmers and things like that, and that was kind of the expectation that you just kind of did what your parents did. And my adoptive dad was an electrician and his brother and his dad were also electricians, so I guess the expectation was that I would also do that. But I just never really felt passionate about that. And I had a lot of blue-collar jobs, but I guess my answer to the question is that those were the people that I knew and so I would write about those types of people because I felt like I was part of them too, even though I didn't do that same kind of work. Not romanticizing it or glorifying it, but just showing how real people, who I knew, live.
Often the people I grew up with and my family—there was a lot of alcoholism and poverty, illiteracy in my community. I would write about all of that, but I always wanted to have an element of hope in it. So I guess that's the theme that I really try to push. In my life, my biological mother was schizophrenic, which is why she didn't raise me. You know, I wrote a memoir about her and I met her when I was older. It was interesting and it was kind of beautiful in some ways and kind of horrible in other ways. Some people are like, 'Yeah, I could never read that book because it's so dark,' but to me, there's hope in it. So, I guess my theme is always like you drag people through the dirt and they come back on the other side. Kind of like in Shawshank Redemption when he climbs through the sewage. I really like that.
IB: Who or what was an important inspiration for your latest collection of poetry?
DA: I read a lot of poetry, obviously, but I still just kind of have an affinity toward poets that everybody used to read in high school, like Robert Frost, but I always liked that woodsy kind of poetry—and the kind of poetry where it just sounds like somebody's talking to you. So, maybe unashamedly Robert Frost and then I like Billy Collins too, who's another one of those writers who gets kind of picked on for being too simplistic. But, you know, I'm not writing necessarily because I want to get a lot of readers, but I like to think of somebody reading poetry who normally would never want to read a poem and have them say, 'Oh wow, a poem can just be like this?' Like it just sounds like a story somebody is telling me. So, that's kind of what inspires me is just simplicity.
IB: Can you give us a little preview of your latest work?
DA: Oh, Mirrors. So, coming full circle, since I was adopted, I always knew who my mother was because she was my adoptive mother's older sister, so I was adopted by my aunt basically. I always knew who she was even though I had never met her until I was 20. I always thought I knew who my biological father was because they would say, 'Oh, your mom was kind of seeing this guy around the time you were born,' and his dad is best friends with my grandpa. I always just assumed it was this guy, Lonnie, so I grew up my whole life thinking this guy was my father. I had seen a picture of him, he had blonde hair, and I had blonde hair when I was little. So, I reached out to him in my twenties. I looked him up in the phone book and wrote him a letter and months went by and he called me. We met, and I had no reason to think he wasn't my dad, and so my second novel is actually a fictionalized version of a kid meeting his dad. It was disappointing because he was kind of a troubled person.
Well, fast-forward to 2018, I had a thing on ancestory.com that had been sitting on there for a while and some guy popped up on there as my uncle. I had never heard of him before. Long story short, I found out that that guy Lonnie was not my father. It was some completely random guy who lives, like, a thousand miles away. At first, I was like this is a mistake, this doesn't make any sense. But thanks to Facebook, I looked him up and I showed my wife pictures of him—this one picture he had of himself from when he was in high school, and she thought it was me. So, we ended up taking a paternity test, just to make 100 percent sure, and the weird thing is he doesn't remember my mother and she didn't remember him either. They just had a one-night thing, and that's how I came into the world [laughs].
Read an excerpt from Mirrors here.
She passed away, so she never got to find out for sure, but it had a happy ending. He's the one I found on Goodreads, and he has like 2,000 books. He's read a lot of the same books that I have read—it's weird. And so my next book is a memoir, but it's a collection of essays, so it's kind of like the equivalent of a short story collection I guess, but nonfiction. And it's all about me being adopted and that feeling of never fitting in, and that's kind of where I think that imposter syndrome kind of starts when you're little. And then eventually meeting this guy who turns out to be my dad, which is weird because I wrote this whole other book about this guy who I thought was my dad. I could be super embarrassed and ashamed and humiliated and angry, but it turns out we [my real dad] have a relationship. It's been incredible. So, I felt like I have to write this and he said that it was OK if I told the story, so that's my next book. And it's not a spoiler alert, but at the end, when I was looking in a mirror and my son was standing right there, and I was looking at myself and then him who looks just like me, and I look just like my dad. Even still when I look at my son, you don't realize, you kind of take that for granted.
IB: What directions do you feel like you're moving toward in your career?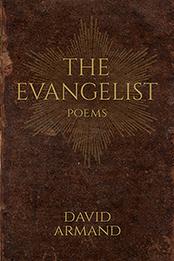 DA: I've sort of branched out. I started with poetry, and I never thought that I would go back to it, but just recently I had a collection come out, The Evangelist, and the evangelist that I'm actually talking about it is Elvis of all people. I thought, you know, there was something kind of religious about hearing him sing, and I'm not like an Elvis fan by any means, but I feel kind of moved by his music sometimes. And then I started writing plays recently, which I never ever thought that I would do. I have a couple of plays that I'm shopping around at little community theaters, and I have another novel that I've finished. So, in terms of direction, this most recent novel, for lack of a better word, is a horror novel. I never thought that I'd write genre fiction, but when I teach classes, so many of my students write genre fiction, and I was always taught that was bad—like you can only write Southern literary fiction. There's some great fantasy novels and horror novels and sci-fi novels and I've been reading more stuff like that, so I thought maybe I'll try my hand in that. I guess I just want to do as much as I can. I don't want to be like 'the Southern guy' or the 'Faulkner guy' or whatever. And I wanted to dispel that idea, especially in academia, that the only thing that is good is literary fiction.
David Armand will be presented the Louisiana Writer Award on Saturday, October 29, during the Louisiana Book Festival in a ceremony at the Capital Park Museum in Baton Rouge from 9-9:45 a.m. His other events and readings during the festival can be found here.