Tennessee Williams' "Night of the Iguana" Opens in New Orleans ahead of Literary Festival.
by Cerith Mathias
The Tennessee Williams Theatre Company (TWTC) of New Orleans' production of "Night of the Iguana" has opened at the Lower Depth Theater at Loyola University in the city.
This, the first offering of TWTC's seventh season, coincides with the Tennessee Williams New Orleans Literary Festival, a literary and theatrical feast of all things Williams held annually in the playwright's spiritual home of "little bohemia."
The playwright's last successful broadway hit, "Night of the Iguana" follows the interactions between a widow, a former priest-turned-tour-guide and an elderly poet and his carer-granddaughter who find themselves out of luck and off-track in an out-of-season Mexican hotel during a storm.
Cerith Mathias caught up with Augustin J. Correro, co-artistic director of the Tennessee Williams Company of New Orleans and author of Tennessee Williams 101, over Zoom ahead of the festival to talk about the production, Williams' meaning behind it and why its issues and themes are still so searingly relevant today.
Cerith Mathias: What drew you to "Night of the Iguana?"
Augustin J. Correro: Personally, 'Night of the Iguana' has always been one of my favorite Tennessee Williams plays. It's one of the juiciest plays, with one of the most interesting settings and groups of characters. I've always felt it's a very funny play and also very chaotic, and I love organized stage chaos. The reason we chose to do it in this season is that [The Tennessee Williams Theatre Company of New Orleans'] season seven is slated as 'deadly.' We're choosing shows where consequences catch up to the characters, where their vices rack up a debt that suddenly has to be paid. So in the case of 'Night of the Iguana,' 'Sweet Bird of Youth' and 'Spring Storm,' there are all these high-stakes, life-or-death moments that all are an outgrowth from the characters' flaws and hubris and the ways that they interact with other people and treat other people. Of course, 'Sweet Bird of Youth' and 'Night of the Iguana' end in very different ways for the protagonists, but the danger is still there. And the danger is what really ties together the season.
CM: The words 'pride', 'sloth', 'gluttony' and 'treachery' adorn the publicity for this production of 'Night of the Iguana.' Tennessee Williams is known for his forensic examination of the human condition in all its glory and grotesqueness. What do you think his statement is with 'Iguana'?
AJC: I think he has several, but one of the statements that we found really bubbling to the surface repeatedly is to be gentle with people at the end of their ropes. To offer, if not forgiveness, if not redemption, then at least offer stillness to those people who are panicky and those people who are fraught. It's a message of kindness and compassion that comes to the surface in spite of the play being in many ways violent and chaotic and sultry and voluptuous. And that comes across in the interplay between the eastern and western philosophies that the characters reference multiple times.
Shannon, the protagonist, has so much punishment built up in himself from western theologies, and he claims that God is portrayed as a senile delinquent who is peevish and cruel. And when Hannah, one of the other protagonists arrives—because I do feel that in Tennessee Williams somehow you wind up with multiple protagonists, which is unique among other modern playwrights—Hannah has just a very different worldview and a very different view of how to treat people who are worse off. Then, of course, there are other themes that underpin it all; the idea of the old poets dying out and the fascists tromping around on the porch treating everyone like set dressing. The idea of poetry comes forth a lot. I don't want to spoil anything, so I'll leave it at that. It's also a case of the hens coming home to roost—you can't run once you hit the end of the world. Your stuff is going to catch up with you. This is one of many Williams plays where he takes the characters to the end of the world to make them have their final battle with the demons that are oftentimes generated from themselves.
CM: This production is a fresh, present-day take on Williams' work. How relevant are the themes in 'Iguana' today?
AJC: I think it's still an endemic curse on humanity that there are cruel people that will arrive anywhere that you are, no matter how far out into the rainforest you go. The other themes that I think come out are anxiety and loneliness that are perennial in Tennessee Williams. We have also tasked a more diverse group of people to reflect a more globalized set of individuals, which makes more sense in a modern context. We've given additional care to the Mexican characters and also borrowed from some Mesoamerican mythologies, so as to balance out the East and the West all taking place in Mexico, because to have a discussion of religion and yet not to bring any of the indigenous religion of the setting into place, that seemed something that was wanting. As far as I know, we are the first group to have cast a trans actor as Hannah Jelkes. Suddenly, Hannah makes a lot of sense in ways that I have seen other actors struggle, because the actor [Justice Hues] brings experiences that really highlight and illuminate corners of Hannah that otherwise have been treated as question marks.
CM: Were those themes and meanings always present in Tennessee Williams' work? Was it a case of the world not being quite ready for them at the time he wrote them?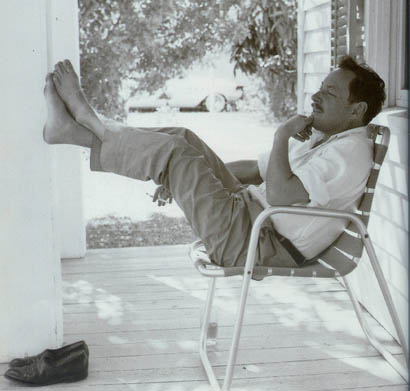 AJC: Oh, that's the story of his life. Especially in the last 25 years of his career—the bulk of his prominent career was him writing ahead of his time. I think [as a company] we found a great deal of success with his lesser-known and more rarely produced works, especially the later ones because audiences are much more ready for those kinds of messages now and they're also more open to more challenging theatrical modes and conventions. With 'Night of the Iguana,' the only references that we changed do the audience a little bit of service: the names of the songs and the names of the artists were updated in order to make the audience better understand the essence of what the characters are referencing so that they get a better idea, but we didn't change anything integral to the play. We wanted to leave its essence untouched. We want our audiences to feel welcome to our shows and not have question marks that draw them out of the experience simply because they weren't alive 100 years ago.
CM: Your theater company is dedicated to the works of Tennessee Williams. Is there a play of his that you've not worked on yet, but would like to?
AJC: I've worked on 'A Streetcar Named Desire' a couple of times and, of course, I want to work on 'Streetcar' again. I would really love to do some of the later plays like 'Masks Outrageous and Austere' and 'This Is (An Entertainment),' things that have never had a Broadway opening. There are also plays that I would love to go back to again and say, 'oh well, I would love to see this in a different way.' So there are definitely some bookmarks. But it's all about fitting them into a season narrative and about figuring out the right formula each season.
CM: And finally, the company's love of Williams' work has also transferred from the stage to the street, with a new walking tour hitting the French Quarter. Can you tell me about it?
AJC: From Street to Stage is a unique Tennessee Williams French Quarter walking tour that concentrates on the locales that he moved about in during his lifetime that filtered their way into his plays. The tour especially leans into the relationship those places had with either fame or infamy. And oftentimes that infamy has to do with the fact that they were queer spaces. Our tour guide Marcus Shacknow will be focusing on the coding of queer spaces, the underground nature, the double exposure of having to be in the closet but also being in New Orleans. Because you know, it was still illegal in Tennessee's lifetime. Talking about actual places that you can still visit and how they made their way into his plays is going to be really rewarding for the folks who go on these tours, who've never maybe realized that this building or that building are actual locations of his plays—and what experience Williams had while living there.
"Night of the Iguana" runs March 10-26. For information and tickets, visit twtheatrenola.com.
From Street to Stage Walking Tour takes place March 24 and 25 at 5 p.m. For information and tickets visit twtheatrenola.com.
The Tennessee Williams/New Orleans Literary Festival started on Sunday, March 19, 2023, with the Stella Shouting Contest and runs through Sunday, March 26. Some of this year's highlights include theater performances of "Night of the Iguana" and "Cat on a Hot Tin Roof," an LGBTQ+ French Quarter Tour; authors Maurice Carlos Ruffin, Tom Piazza, David Armand, Augustin J. Correro, Douglas Brinkley, Katy Simpson Smith, Cheryl A. Head and Rebecca Makkai; plus lots more tours, sessions on writing and special events. See the full schedule here.
Cerith Mathias is a journalist, TV producer and festival director based in Wales, UK. She writes on arts and culture, with a particular interest in Southern literature. She's a founding director of Cardiff Book Festival in the UK and has produced TV and radio programs for the BBC. Read her blog here and more of her work in Deep South here.