26 of the latest fiction debuts, short story collections, mysteries and more from down South.
OUT NOW
Years ago, yellow fever gripped the small lakeside town of Prosper, Arkansas. At the height of that summer swelter, in the wake of an unexpected storm, the dam failed and the valley flooded—drowning the town and everyone trapped inside.
The secrets of old Prosper drowned with them. Now, decades later, when a mysterious locked box is pulled from the depths of the lake, three descendants of that long-ago tragedy are hurled into another feverish summer. Cassie, the reclusive sole witness to an impossible horror no one believes; Lark, a wide-eyed dreamer haunted by bizarre visions; and June, caught between longing for a fresh start and bearing witness to the ghosts of the past. Bound together, all three must contend with their home's complex history and with the ruins of the town lost far beneath the troubled water.
Graceland by Nancy Crochiere
People-pleasing Hope Robinson can't seem to please anyone lately—not her slogan-spewing boss, not her pink-haired, teenaged daughter and especially not her mother, the flamboyant soap star, Olivia Grant. Olivia loves Elvis more than Jesus, and now that she's on oxygen, she insists Hope take her on a final trip to Graceland. Even though 18 years earlier, pregnant and distraught, Hope fled Tennessee with a secret agreement: to never reveal her baby's father and never return to Memphis.
Olivia has never learned the word no. She wrangles Hope's impulsive daughter, Dylan, to drive her from Boston to Memphis with the promise of meeting her mystery father, and Hope must stop them before they ambush Dylan's father, exposing lies, breaking the NDA and igniting a political and media firestorm. To become the family they long to be, Hope, Olivia and Dylan must face hard truths on the bumpy road to acceptance, forgiveness and, ultimately, grace.
Nola Trenholm may not be psychic herself, but she's spent enough time around people who are to know when ghosts are present, and there are definitely a few lingering spirits in her recently purchased Creole cottage in New Orleans.
But with the sudden return of Sunny Ryan, Beau Ryan's long-lost sister, Nola has plenty to distract her from her ghostly housemates. Especially when the tempting—yet firmly unavailable—Beau, wanting to mete out justice to those he blames for Sunny's kidnapping, asks Nola for a favor that threatens to derail her hard-won recovery and send her hurtling backward. Torn between helping Beau and protecting herself, Nola doesn't realize until it's almost too late why the ghosts are haunting her house.
In New York City, winter never seems to loosen its hold and, for South Carolina transplant Maggie (born Magnolia after the fairest summer flower), the balmy beach weather of April back home on Sullivan's Island feels like a distant memory. Until a phone call from her sister, Violet, changes everything.
Gran, the treasured matriarch, has fallen into a coma after a car accident caused by Maggie's troubled mother, Lily. But once Maggie returns, she finds that her hometown of Sullivan's Island holds even more secrets. Once she is between the marsh grasses and dunes of South Carolina, she feels herself changing like the Atlantic tides into a new and different version of herself—one who can see how a minor crash into the back of a very handsome farmer's truck may become fortunate. or perhaps even fate.
In the hurricane-ravaged bottomlands of South Mississippi, where stores are closing and jobs are few, a fierce zealot has gained a foothold, capitalizing on the vulnerability of a dwindling population and a burning need for hope. As she preaches and promises salvation from the light of the pulpit, in the shadows she sows the seeds of violence.

Elsewhere, Jessie and her toddler, Jace, are on the run across the Mississippi/Louisiana line, in a resentful return to her childhood home and her desolate father. Holt, Jace's father, is missing and hunted by a brutish crowd, and an old man witnesses the wrong thing in the depths of night. In only a matter of days, all of their lives will collide and be altered in the maelstrom of the changing world.
Aging Herb's charmed life with his dear wife, Susan, in their Key West house is coming undone. Susan now needs constant care, and Herb is in denial about his own ailing health. The one bright spot is the arrival of an endlessly optimistic manicurist calling herself Renee. But then Herb and Susan's adult children arrive to stage an intervention on their stubborn, independent father and, as a consequence, Renee's gig with Susan—and her grand plans for her own life—start to unravel as well. So much had seemed as if it could change for Renee, who is not the happy, uncomplicated young girl she pretends to be. She is actually named Dee Dee, and she's fleeing a dark past.
Meanwhile, Herb can't just let go of all that he has ever had. So, he suggests one last joy ride in his Porsche. The two take off north out of Key West, soon setting off a Silver Alert. As the unlikely friendship between Herb and Dee Dee deepens, we see how as one life is closing down, another opens up.
Jesse Braddock is trapped in a tiny cabin deep in the Everglades with her infant daughter and her ex-boyfriend. Broke and desperate for a way out, Jesse stumbles across a long-lost treasure that could solve all her problems—if she can figure out how to keep it. The problem is, some very bad men are also looking for the treasure, and they know Jesse has it.
Meanwhile, Ken Bortle of Bortle Brothers Bait and Beer has hatched a scheme to lure tourists to his failing store by making viral videos of the "Everglades Melon Monster." The Monster is, in fact, an unemployed alcoholic newspaperman named Phil wearing a Dora the Explorer costume head. Incredibly, this plan actually works, inspiring a horde of TikTokers to swarm into the swamp in search of the monster at the same time villains are on the hunt for Jesse's treasure. Amid this mayhem, a presidential hopeful arrives in the Everglades to start his campaign. Needless to say, it does not go as planned. In fact, nothing in this story goes as planned. This is Florida, after all.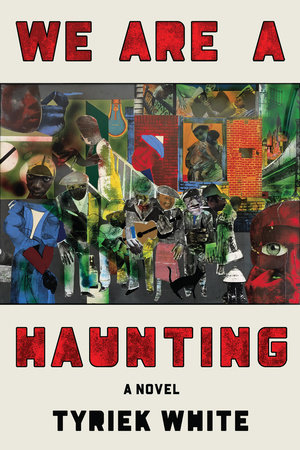 In 1980s Brooklyn, Key is enchanted with her world, glowing with her dreams. A charming and tender doula serving the Black women of her East New York neighborhood, she lives, like her mother, among the departed and learns to speak to and for them. Her untimely death leaves behind her mother Audrey, who is on the verge of losing the public housing apartment they once shared. Colly, Key's grieving son, soon learns that he too has inherited this sacred gift and begins to slip into the liminal space between the living and the dead on his journey to self-realization.
In the present, an expulsion from school forces Colly across town where, feeling increasingly detached and disenchanted with the condition of his community, he begins to realize that he must be accountable to the place he is from. After college, having forged an understanding of how to foster love in places where it seems impossible, Colly returns to East New York to work toward addressing structural neglect and the crumbling blocks of New York City public housing he was born into, discovering a collective path forward from the wreckages of the past.
When artist Dani Manchester learns she's slowly losing her vision, she becomes unmoored. Her ex-husband died only months before, leaving Dani and her preteen daughter grief-stricken. Suddenly, the life Dani built for her family on the Outer Banks feels like a painful reminder of all they've lost.
On a whim, Dani sells her waterfront home and buys an old farm inland near the Virginia state line. But Dani's daughter recoils at the sudden, drastic change. The Outer Banks' sun-swept beaches, pink dawns and savage storms are all she's ever known. But Dani is resolute, and the pair move to Virginia to embark on a challenging renovation. That summer, their efforts to turn a rundown silo into an art studio bring forth new friends, new loves and new challenges.
"I opened this book at the beauty parlor and two chapters in started hand-selling it to strangers. Hannah Pittard's memoir is her best book yet. It is raw, daring, honest, and fair," says Kiss Me in the Coral Lounge author Helen Ellis about We Are Too Many. Readers may remember Pittard's Visible Empire, but this is a memoir (kind of) about a marriage gone wrong.
Pittard recalls a decade worth of unforgettable conversations, beginning with the one in which she discovers that her husband has been sleeping with her best friend. Blending fact and fiction, sometimes re-creating exchanges with extreme accuracy and sometimes diving headlong into pure speculation, Pittard takes stock not only of her own past and future but also of the larger, more universal experiences they connect with―from the depths of female rage to the heartbreaking ways we inevitably outgrow certain people.
By her own account, Meribel Mills is not famous enough to get murdered, so why is she the target of a dangerous obsession?
It began with a few creepy letters, but now she's getting death threats. Worse, Meribel's sheets smell of unfamiliar cologne and objects are moving around the house. She and her daughter move from Los Angeles to Atlanta for a fresh start—but no distance is great enough.
​She can still feel eyes on her—an actor's superpower. Has he followed her across the country or is it someone else who is watching? Suddenly, every man in her life is a suspect, but she can't keep herself and her daughter safe from a monster she can't identify. When the paths of all of these men collide, Meribel will find herself alone in the fight of her life.
JUNE
After years of working as an FBI agent, Titus Crown returns home to Charon County, land of moonshine and cornbread, fistfights and honeysuckle. Seeing his hometown struggling with a bigoted police force inspires him to run for sheriff— becoming the first Black sheriff in the history of the county.
A year to the day after his election, a young Black man is fatally shot by Titus's deputies. Titus pledges to follow the truth wherever it leads. No one expected he would unearth a serial killer who has been hiding in plain sight, haunting the dirt lanes and woodland clearings of Charon.
Titus must pull off the impossible: stay true to his instincts, prevent outright panic and investigate a shocking crime in a small town where everyone knows everyone, yet secrets flourish. All while also breaking up backroads bar fights and being forced to protect racist Confederate pride marchers.
Sonny Bates left South Carolina 15 years ago and never looked back. Now she's a successful Hollywood location scout who travels the world, finding perfect places for movie shoots. Home is wherever she lands, and between her busy schedule and dealing with her boss's demands, she has little time to think about the past—until her latest gig lands her a stone's throw from everything she left behind.
Searching off the coast of Charleston for a secluded site to film a key scene, Sonny wanders onto a private barrier island and encounters its reclusive owner, known by locals as the Monster of Idigo Isle. Once a successful New York attorney, Hudson Renfrow's grief had exiled him to his island for several years. But when a hurricane makes landfall on the Carolina coast, stranding them together, an unlikely friendship forms between the two damaged souls.
Raised in Alabama, Helen Ellis lives in New York City with her husband in an apartment where the living room is nicknamed the "Coral Lounge" for its paint color. When the pandemic shuts down the city, the Coral Lounge becomes a place of refuge, where Helen and her husband binge-watch Joan Collins's "Dynasty," dote on two spoiled cats and where Helen discovers that even 20 years into marriage, her husband still makes her heart pitter-patter.
Her intimate confessions from a happy marriage include humorous essays like "My Husband Snores And Yours Will Too," "Married … With Plants" and "May I Hold Your Grudge For You?" Dear Edward author Ann Napolitano says, "Ellis is one of our greatest living humorists, in the same league as Sedaris and Irby…A fascinating portrait of middle-aged love."
Moving from small Philippine villages of the past to the hurricane-beaten coast of near-future Florida, When the Hibiscus Falls examines the triumphs and sorrows that connect generations of women.
Daughters, sisters, mothers, aunties, cousins and lolas commune with their ancestors and their descendants, mourning what is lost when an older generation dies, celebrating what is gained when we safeguard their legacy for those who come after us.
Featuring familiar figures from M. Evelina Galang's other acclaimed and richly imagined novels and stories, When the Hibiscus Falls dwells within the complexity of family, community and Filipino American identity. Each story is an offering, a bloom that unfurls its petals and holds space in the sun.
It's 1952 in the small western Kentucky town of Paducah and Mrs. Minerva Place would prefer everyone mind his own business, follow the rules and, if dead, stay dead. Nosy neighbors and irritating church members are bad enough but when residents of the local cemetery start showing up, the quirky widow wonders if she's going crazy. Just as distressing, a new boy in the neighborhood seems intent on disrupting her life. Minerva, aggravated by the precocious six-year-old, holds him and his father at arm's length. Nevertheless, with charming perseverance, they find a way into her closed-off life and an unlikely friendship begins.
But just when Minerva starts to let her guard down, a tragic accident shatters her emerging reconnection with life. Now more than her sanity is at stake. With the help of the living and the dead, Minerva discovers the power of forgiveness and why it's worth it to let others into your life, even when it hurts.
The Helena is an Art Deco apartment building that has witnessed the changing face of South Miami Beach for 70 years, observing the lives housed within. Among those who have called apartment 2B home are a Cuban concert pianist who performs in a nursing home; the widow of an intelligence officer raising her young daughter alone; a man waiting on a green card marriage to run its course so that he can divorce his wife and marry his lover, all of whom live together; a Tajik building manager with a secret identity; and a troubled young refugee named Lenin.
Each tenant imbues 2B with energy that will either heal or overwhelm its latest resident, Lana, a mysterious woman struggling with her own past.
A traumatic experience in the line of duty forces 30-year-old Avery Rogers to abandon both her relationship and her position as a Kentucky State Police officer. She retreats to a college town where she works an unfulfilling job as a security guard, breaking up fights between drunken frat boys. But a frantic phone call turns Avery's life upside down. Her father—a retired cop who never fails to convey his disappointment in Avery—says her half-sister is missing and in danger. Avery is sure Anna's just crashing with friends, but her father strong-arms her into searching for her.
Anna Rogers is fed up with her family, so she hits the road to attend a protest against police brutality. Just after catching a glimpse of Avery at the protest, Anna receives a shocking text. Now she's no longer road-tripping; she's running, pursued by an older sister she doesn't trust and a violent stranger who has been stalking her for weeks. Little do the sisters know that the past is catching up with them—including the explosive secret at the very heart of the Rogers family.
JULY
It's been eight years since Sara Lancaster left her home in Savannah, Georgia. Eight years since her daughter, Alana, came into this world, following a terrifying sexual assault that left deep emotional wounds Sara would do anything to forget. But when Sara's father falls ill, she's forced to return home and face the ghosts of her past.
While caring for her father and running his bookstore, Sara is desperate to protect her curious, outgoing, genius daughter from the Wylers, the family of the man who assaulted her. Sara thinks she can succeed—her attacker is in prison, his identical twin brother, Jacob, left town years ago, and their mother is unaware Alana exists. But she soon learns that Jacob has also just returned to Savannah to piece together the fragments of his once-great family. And when their two worlds collide, with the type of force Sara explores in her poetry and Jacob in his astrophysics, they are drawn together in unexpected ways.
Rachel Ruskin never intended to return to her family's tobacco farm in Shiloh, North Carolina. But when her academic career studying Southern folklore in New York City flames out, she has no choice. Back in her hometown in the wake of family loss, she is alone, haunted by memories, by ghosts and by Shiloh's buried history of racism and violence.
When another child is accidentally shot and killed, however, Rachel can no longer avoid confronting her own past wrongs; nor can she continue to hold herself apart from her community. How can the people of Shiloh reconcile their love of hunting and their belief in tradition with the loss of more children? Drawn into the rhythms of Shiloh and in search of a place to be long, Rachel must question everything she grew up believing and at the same time find a way to accept those around her.
Thirty years ago, June Moore bought Camp Holly Springs and turned it into a thriving summer haven for girls. Now, June is in danger of losing the place she has sacrificed everything for.
June's niece, Daphne, met her two best friends, Lanier and Mary Stuart, during a fateful summer at camp. They've all helped each other through hard things. But when Daphne is confronted with a relationship from her past, she is faced with an impossible choice. After a run-in with an old flame, Lanier is also forced to choose between the commitment she made to her fiancé and the one she made to her first love. When a big secret comes to light, she finds herself at odds with her best friend … and risks losing the person she loves most.
When the women learn their childhood oasis is in danger of closing, they band together to save Camp Holly Springs, sending them on a journey that promises to open the next chapters in their lives.
The Wonder State by Sara Flannery Murphy (July 18)
Five friends arrive back in Eternal Springs, the small Arkansas Ozarks town they all fled after high school graduation. Each of them is drawn home by a cryptic, scrawled two-word letter: You promised.
It has been 15 years since that life-changing summer, and they're anxious to find out why Brandi called them back, especially when they vowed never to return.
But Brandi is missing. She'd been acting erratically for months, in and out of rehab, railing at whoever might listen about magic all around them. About a power they can't see. And strange houses that appear only when you need them … Told in two enthralling timelines, The Wonder State is a stunning, immersive follow-up to Murphy's supernatural thriller Girl One.
The Hunt by Kelly J. Ford (July 25)
For 17 years, a serial murderer has used the Presley, Arkansas, Annual Hunt for the Golden Egg to find prey. Or at least that's what some people believe. Others, like the town's devoted "Eggheads," relish the tradition and think the deaths are just unfortunate accidents. But for Nell Holcomb, the town's annual Hunt dredges up a particularly painful memory: her brother's death, long believed to be "the Hunter's" first kill.
Nell has been caring for her nephew since then, trying to keep him safe and trying to conceal the role she played in his father's death. Most importantly, she's been trying to avoid the Hunt—despite the clashes that erupt in town over the event and her best friend's obsession with winning the big prize. As Easter draws near, Nell must face her past and the Hunt as the danger once again veers close to home.
A tour de force from poet, sociologist and beautiful new literary voice Wendy Chin-Tanner, King of the Armadillos is a novel that pulls on your heartstrings with every turned page. Loosely based on the author's father's life story, it follows a young Chinese immigrant, Victor, as he is treated for Hansen's disease at Carville, a national leprosarium that only recently closed its doors to patients and became a national historical museum.
Victor emigrates from China to the Bronx to Louisiana in the early 1950s, leaving behind all he knows and finds himself surrounded by a motley group of characters in, what at times feels like a surreal place. On his quest toward better health, Victor stumbles into peculiar friendships with other Carville patients and even finds himself entangled in a devastating teenage love affair that alters the way he views self identity and the world at large.
AUGUST
When Kate Jessup came back to Wilmington, North Carolina, nothing was as she expected. The fields she remembered, replaced by a subdivision of single-story, brick patio homes. The men crowded around her mother's table not boyfriends, but employees—migrant farm workers. Her mother in her deathbed—the woman caring for her being treated more like a daughter than Kate ever was, and sleeping in her childhood bed.
Sara Johnson Allen's debut novel is the gritty and fiercely big-hearted story of these three women, as their lives collide. They do not trust one another. They have one thing in common: they're mothers trying to bring their children home at any cost. And one more thing. They are each other's only chances.
Toya Gardner, a young Black artist from Atlanta, has returned to her ancestral home in the North Carolina mountains to trace her family history and complete her graduate thesis. But when she encounters a still-standing Confederate monument in the heart of town, she sets her sights on something bigger.
Meanwhile, local deputies find a man sleeping in the back of a station wagon and believe him to be nothing more than some slack-jawed drifter. Yet a search of the man's vehicle reveals that he is a high-ranking member of the Klan, and the uncovering of a notebook filled with local names threatens to turn the mountain on end.
After two horrific crimes split the county apart, every soul must wrestle with deep and unspoken secrets that stretch back for generations.
Featured image is by Florida artist Jenna Alexander titled "Book Club" from the Modern Summer collection. Read more about Alexander's art and her new collection here.