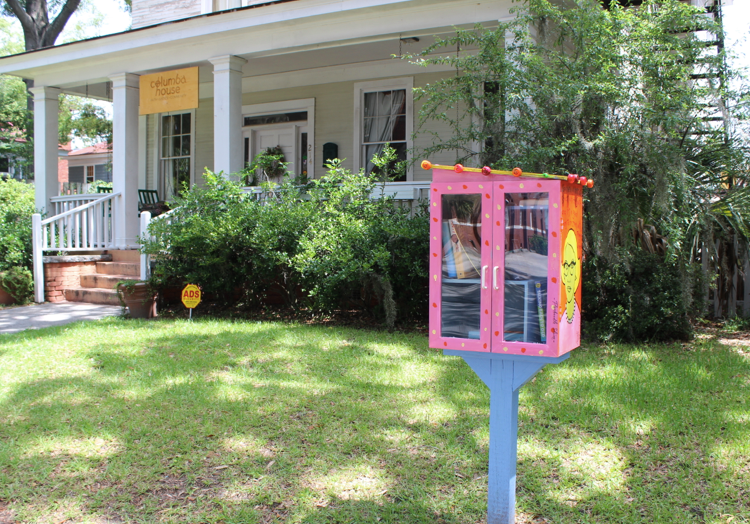 The Flannery O'Connor Book Trail grows with a fifth Little Free Library and plans to expand beyond the city. 
Woodworker and artist Jeremiah Jossim describes the little free library as a "big bird house with a door." It's an especially fitting description for Flannery O'Connor, who infamously taught a chicken to walk backwards at her childhood home in downtown Savannah, Georgia, and later become known for raising beautifully plumed peacocks on her family farm.
O'Connor currently has four of these "bird houses" in her honor scattered around the city, with a fifth one being unveiled tomorrow at 10 a.m. at Brighter Day Natural Foods. The project began as a wedding present for Roots Up Gallery owners Francis Allen and Leslie Lovell, who asked guests for donations for a Little Free Library in lieu of gifts. O'Connor came into the picture when Allen saw a painting of her by local folk artist Panhandle Slim. He started thinking about the author's influence on the area, and a themed library concept was born.
Allen and Lovell soon connected with O'Connor's Childhood Home and artist Coco Papy to bring the libraries to life. Papy says the idea began as a book trail dedicated to O'Connor that would stretch from Savannah up to her farm Andalusia in Milledgeville. Zoning issues have presented a problem in some areas, so the team is focusing on Savannah for now.
"We wanted to pay homage to O'Connor with this project and hopefully serve people who really want the libraries and can positively benefit from them," Papy says. Christine Sajecki, outgoing board president of the O'Connor Childhood Home, adds that the libraries fit perfectly with the literary house museum's mission to cultivate a love of reading and open the door as widely as possible.
Local artists have been tapped to design all five of the libraries with an O'Connor theme in mind — each one unique to the artist and location. There's the first library painted with peacock feathers by Papy herself at Starfish Garden, then came the West Broad Street YMCA library painted by local kids in a creative arts program. The third library stands outside the Childhood Home, textured to look like a peacock by artist Katherine Sandoz. Panhandle Slim's library went up at Columba House in April, painted with Warhol-inspired images of the author and sayings like "A Free Book Is Easy to Find."
Jossim has built them all of wood, and says the latest one going up at Brighter Day by artist Cleonique Hilseca is his favorite. "I went with a more modern roof design, larger door and changed up shelving system," he says. "Then Cleonique did a really good job painting it with a gold and black color palette that jives really well with the library's structural aesthetic."
Papy describes the latest library as more Southern Gothic than the others, a fitting tribute for the queen of the genre herself. As for the books available in each, local stewards have been designated to keep the libraries full and ensure plenty of O'Connor's works can be found on their shelves.
"It makes me happy when I drive by my own library and see people reading books at the bus stop," says Papy. "You're making someone's day and making books and reading accessible. It's the same thing at the O'Connor home. You open it up and it's this treasure trove of fiction."
Seeing the community's response to their "wedding gift" has also been special for Allen and Lovell. "The tie-in to Flannery O'Connor has been extremely strong," Lovell says. "People have been so supportive in providing locations and artists sharing their talents. The people using the libraries are taking books and, even more importantly, they are sharing their books in return."
Up until now, the libraries have been mostly focused in downtown Savannah, but plans to bring them to Isle of Hope, Tybee and Thunderbolt are in the works. A library made from old barn wood is also in production at Andalusia.
Photos courtesy of Flannery O'Connor Book Trail.