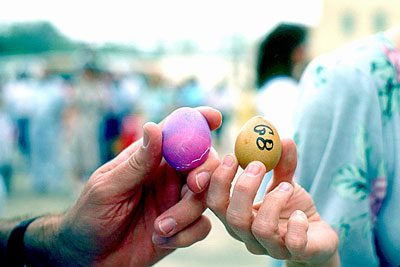 Every year on Easter Sunday after church, my mother's side of the family gathered on the front porch of our Cypremort Point camp on Vermilion Bay in South Louisiana for the big knockoff. Eggs had been boiled and dyed the night before, mom had made the scoring brackets on a sheet of white posterboard, and those old enough to participate were ready to "pâque." Two by two, cousins, aunts and uncles knocked eggs end to end, until one person's cracked. After all the brackets had been filled in, someone came out as winner, and one egg emerged as the strongest.
This family tradition ceased as my cousins and I got older, and Easter eggs lost their mystique, but all over Acadiana and as far as Marksville, families have been pâquing eggs for generations. The term pâquing comes from the French word for Easter, "Pâques," and also from the "pock pock" sound the eggs make when they knock against each other.
Pâquing has its origins in Europe. "The Greeks have a tradition of battling eggs," says Amanda LaFleur, coordinator of Cajun Studies in LSU's French department. In LaFleur's hometown of Ville Platte, pâquing eggs on Easter is "a very big deal." The LaFleur family champion pâques against the champion of the Aucoin family, complete with rehearsed dancing, cheers and songs. The Aucoins arrive in flatbed trucks with a live band, while the LaFleurs take a schoolbus and chant "We will, we will Pâques you" all the way. The treatment of the champion egg rivals that of the Easter Bunny. "Until the crucial moment, our top egg is wrapped in a tiny mink stole, a trim from my mother's old stole, and carefully guarded," says Lafleur.
Different families and towns have their own methods for producing a winning egg. In Marksville, where the big pâquing event has been held on the courthouse square since 1956, participants boil their eggs point down to ensure there are no air pockets. Older generations claim boiling the eggs in coffee grounds makes them stronger. In other cities, it's not always "pointy end to pointy end" pâquing, says LaFleur. "A student from Jeanerette told me that they hit the eggs on their sides. A student from Opelousas tells me that in her family it's big end to big end," she says. In LaFleur's family, "sidepâquers" are considered to be cheaters.
In my family, it was always point to point, but that's the only rule I can remember. Pâquing was more about carrying on a tradition, spending time together as a family, and, if your egg proved to be the toughest, taking home an oversized chocolate bunny.
While pâquing seems to be limited to areas of South and Central Louisiana, we know people in other Southern states have their own Easter traditions involving the breaking of eggs, considered a sign of rebirth and new life. According to comments on our Facebook page, Texas's Mexican community makes cascarones, or confetti-filled eggs, that are cracked over heads for good luck.
The city of San Antonio's Fiesta event is held close to Easter each year and incorporates cascarones into its festivities. In previous years, the eggs have been handed out and cracked by attendees to signify the opening of the event and are also sold during the downtown village of La Villita's four-day festival during Fiesta. Public Relations Manager for the Fiesta San Antonio Commission Anne Cannon says, "Cascarones were brought to San Antonio from Mexico as an Easter tradition. Since the Fiesta and Easter are close on the calendar, people have a lot of fun breaking cascarones all over San Antonio."
Update: 2016 Egg Knocking Events 
The town of Cottonport, Louisiana, holds its Egg Pocking on the Bayou Easter Festival on Holy Saturday, with the Official Easter Egg Knocking Contest at 2 p.m.
An Easter on the Red River Festival in Effie, Louisiana, features both children's and adult Egg Knocking Contests at Ben Routh Recreational Park at 12:30 and 3 p.m. respectively.
In Marksville, Easter Egg Knocking on the Courthouse Square starts at 9 a.m. at the Avoyelles Parish Courthouse Square.
Photo by Maida Owens.