New Year, New Montgomery
Make a visit to the hometown of Zelda Fitzgerald should be one of your resolutions this year. 
by Erin Z. Bass
Capital city of Alabama. Birthplace of Zelda Fitzgerald and actress Octavia Spencer. Major site of the Civil Rights Movement. First city to install electric streetcars. Launching point of Hank Williams Sr.'s career. 
Montgomery is many things. Historically a river city with a penchant for cotton, today the capital of Alabama is just a cool place to be.
Ahead of its time in 1886 when it became the first city in the country to install electric streetcars along a system nicknamed "The Lightening Route," Montgomery continues to innovate and reinvent itself while staying true to its past. Instead of hiding from its unsavory Civil Rights past, the city embraces it with a Rosa Parks Museum. Keeping in mind one of its most famous residents, Zelda Fitzgerald, Montgomery is home to the only museum in the world honoring her and her famous husband.
Remembering its riverboat roots, the city has recently revitalized its downtown and riverfront, while also playing host to the one of a kind Alabama Shakespeare Festival. And that's not to mention all the new restaurants and bars popping up, film opportunities at the historic Capri Theatre and events celebrating everything from wine to food year-round.
The New Year is a great time to rediscover Montgomery or discover the city for the first time. The Renaissance Montgomery Hotel & Spa with a view of the Alabama River will be glad to put you up, and that aforementioned streetcar is ready to show you all of downtown's new sites.
The Renaissance opened in 2008, along with the adjacent 1,800-seat Montgomery Performing Arts Centre and a 9,000-square-foot European-style spa. Located in the heart of downtown, a short walk from the riverfront and with The Alley entertainment district just across the street, this luxury hotel won't break your budget with standard rates starting at $139 a night. As the weather warms up, the rooftop pool and bar are an added bonus.
After checking in, take a stroll down to the river to check out the new amphitheatre and Harriott II Riverboat. On the way, you'll see the old Union Station Train Shed with a truss system modeled after that of the Eiffel Tower. "A bit of Paris on the riverfront," explains Director of Development Chad Emerson. The structure hasn't seen a train since the 1970s, but does host a downtown farmers market.
A turn to the right will take you to Riverwalk Stadium, home of the Montgomery Biscuits baseball team. Ranked as one of the Top 10 Places to Watch Minor League Baseball by ESPN.com, the stadium brought minor league baseball back to the city after a long hiatus in 2003. It seats up to 7,000 fans and, yes, biscuits are served.
Don't miss the new Railyard Brewing Co. across the street from the stadium. The city's only brewery serving up house-made craft beers by Kade Miller along with specialty burgers (pictured) from Alabama Restaurant Association Chef of the Year Leonardo Maurelli, this is the new place to be downtown.
But don't fill up too fast. There's plenty more food and drink to be had in the The Alley. Just look for the old water tower. Dreamland Bar-B-Que is on the corner, but we suggest saving that for Sunday lunch. For a true taste of Montgomery, both old and new, Central is where you want to be. Auburn University grad Chef Michael Bertozzi showcases fresh Gulf seafood, local meats and greens for flavors that are both sophisticated and downhome. Located in an 1890s grocery warehouse, the restaurant décor (pictured below) is stunning alone, but paired with one of Bertozzi's plates and a glass from the excellent wine list, this becomes a meal you won't soon forget.
If you're not quite ready for bed after dinner, Montgomery's legendary underground jazz bar Sous La Terre is the place to be after midnight on Commerce Street. After a good night's rest, you'll be ready to see the rest of the city and hit a few museums. Just down from the hotel are the Hank Williams and Rosa Parks museums. Cool Beans café, which serves up fair trade organic coffee and breakfast dishes like sweet potato waffles, is a cozy place for fuel if you need it.
Offering the most complete collection of memorabilia ever on display, the Hank Williams Museum is a must for any fan and those who just want to learn more about the country music legend. Manager Beth Petty's father bought Williams a Coke in 1944 before helping him change a flat tire.
Petty is happy to relay Williams' Montgomery roots and tell you what she thinks about the mysterious circumstances of his death before sending you back to explore the small, but packed, museum. There are 17 suits, Williams' dining table and his family sofa, the 1952 Cadillac he died in, his first Gibson guitar, Steinway piano, the microphone stand from his last show and much more on display.
Troy University's Rosa Parks Museum is also located downtown on the university campus, but first take a look at the Court Square fountain, your first glimpse of the mark Zelda Fitzgerald has left on her hometown. This is the site of her notorious daytime skinny dip. According to Willie Thompson at the city's Fitzgerald Museum, her senior class was playing hooky and young Zelda stripped down to her underwear and jumped right in. This could be the reason the fountain has a fence around it today, but that doesn't obstruct the view of this massive structure topped by the Goddess of Youth Hebe.
It's around this circle that Rosa Parks first boarded the city bus she would make famous, but the museum in her honor is down the block. Constructed on the site of the old Empire Theatre in 2000, the Rosa Parks Museum immediately immerses you in the life of its namesake. A multimedia auditorium sets the scene, before leading you back in time to a 1955 Montgomery City Bus that re-enacts the events of December 1. You'll leave not only knowing more about Parks and her life but also knowing how she may have felt while making such a huge mark on the Civil Rights Movement.
Other Civil Rights-related sites in town include Dexter Avenue King Memorial Baptist Church, where the Rev. Martin Luther King Jr. first preached his message of hope, Southern Poverty Law Center and the Civil Rights Memorial & Museum. The city's Convention & Visitors Bureau has an audio driving/walking tour of all the sites available here.
Depending on the time, lunch is probably in order. Hop in the car and head out to the planned community of Hampstead in the eastern part of the city. Those who've visited the planned communities of Seaside and Rosemary Beach in Florida may recognize its smart growth elements, but Hampstead takes it a step further with green building design, solar energy and sustainable values. The Tipping Point in the Town Center is a cool spot to experience the community feel while snacking on spicy green bean fries, Pimento-Cheese Tomato Sliders or a Carolina Dog with BBQ pork, mustard and slaw. Finish off lunch with a Cookie Skillet and wash it all down with a Root Beer Float or cold beer.
Don't leave Hampstead without checking out the 3-acre organic farm, complete with a butterfly garden, working barn and beehives. Each resident has their own plot, and the farm also supplies local restaurants and an on-site farmers' market, in addition to holding a fall Farm to Fork culinary event.
Next, make your way back to downtown by way of the Alabama Shakespeare Festival. Depending on their schedule, you may just want to get tickets to a show, but the festival is worth a stop regardless. Marketing Director Meg Lewis says January is a good time for backstage tours. She'll show you the only replica of New York City Park's Shakespeare statue in the lobby, behind the scenes prop and scene shops and Octagon where Bard Talks are held between shows. The outdoor Shakespeare garden and grounds scattered with statues of his characters are open to the public every day from dawn until dusk, while The Black Swan Bar and Bistro serves dinner and drinks before and after performances on weekends.
Head back downtown for a spa treatment before dinner. The Renaissance Spa is offering facial, massage and mani/pedi specials through January 31, or pay $35 to hang out in the relaxation room with whirlpool and sauna.
Since you'll be dining in Zelda Fitzgerald's old neighborhood of old Cloverdale, depending on the time, you may want to pop into the F. Scott and Zelda Fitzgerald Museum before 5 p.m. on a weekend. Director Willie Thompson will happily lead you through the home she and Scott lived in from 1931-1932. You'll watch a film about the couple before perusing through the bottom floors of the house, filled with originals of Zelda's paintings, first editions of Scott's books and even his ledger listing every penny he ever made.
Big Fitzgerald fans should plan to be there the first Saturday in March, when the museum holds its annual Stars & Starlets Gala. To further explore Zelda's old neighborhood, take a walk to Fitzgerald Park, located near the home. In fact, there's no reason to leave the neighborhood. Several new restaurants and bars have popped up, joining old staple Jubilee, which is famous for its no-frills fresh seafood, and the historic Capri Theatre.
For dinner in Old Cloverdale, we recommend True. If the name sounds familiar, that's because Chef Wesley True recently moved his restaurant of the same name from Mobile to Montgomery. Located in what was formerly Roux, True is taking this young chef's rustic, seasonal cuisine (pictured above) to new levels in a new city.
"We were looking for an opportunity to grow in a city that hadn't yet grown," says True. "People in Montgomery support food, they're looking for something to do, and they want to have fun. They're very open minded, which makes my job easier, because it's a lot more fun to write menus when you're cooking for open –minded people."
True changes out his menu about every 10 days, but you'll always find lots of local seafood, fresh vegetables and staples like the chicken and waffles with caramel butter syrup, a take on shrimp and grits and a wonderful vegetarian plate.
After dinner, take a walk just like Scott and Zelda may have done, either next door to The Pine Bar for a nightcap (pictured below) or the Capri Theatre, an arthouse movie theater that any town would be lucky to have. Showing new releases and a monthly classic, the also presents the Southern Circuit Filmmakers Tour and Festival in February.
If you don't have to head straight home or plan to spend another day in Montgomery, take the opportunity to see more of the downtown area's new development. The Downtown Farm is a great spot to see what's being grown and harvested in the city at any certain time and will be opening a farmstand soon. Bike rentals are also coming to downtown, but for now Southern Trails next to Railyard Brewing rents bikes, kayaks and canoes.
Development in Montgomery is only going to continue. New businesses are opening each month, new events in the works all the time, and almost 2,500 new residents coming to the city each year. According to Fitzgerald Museum Director Thompson, "Montgomery could soon top Birmingham for the most populous city in the state.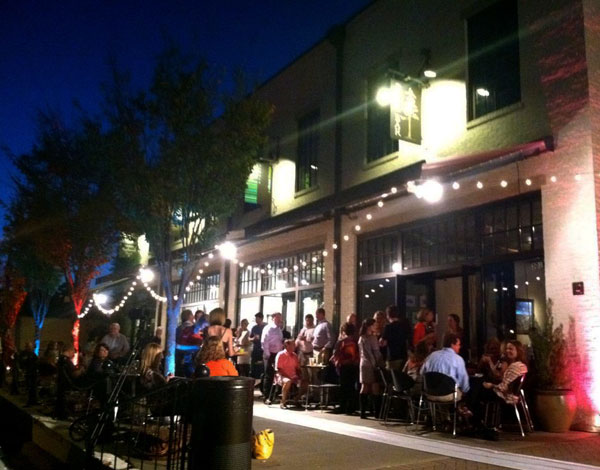 Lit fans may also want to take a drive by Zelda's old high school, Baldwin Magnet on McDonough  Street, said to be haunted by her ghost, or travel down Zelda Road. And with "The Great Gatsby" movie coming out this summer, the city is planning specials tours and events to coincide with the new film version of F. Scott Fitzgerald's classic.
What would the first couple of the Jazz Age think of Montgomery today? Thompson has the answer.
"At the beginning of the 1930s, Montgomery was the sort of place where two world-renowned characters, namely Scott and Zelda Fitzgerald, could hope to disappear from their notorious fame," he says. "In fact, that's why they came here in 1931. It was quiet. Today, the same cannot be said. Tourism is booming, downtown is flourishing and, now, if two 30-something international celebrities came home to roost, they would have much more difficultly escaping notice. But Zelda, if she lived today, would probably be happy for her hometown's success. Indeed, it was largely due to Montgomery's seemingly eternal torpidity that she, at 19 years, rushed off to New York to marry young F. Scott in the first place."
If You Go
The trolley runs from 9 a.m.-4 p.m. Monday-Friday and Saturdays from 9 a.m.-3 p.m. Catch it every hour on hour in front of Union Station.
Click here to see the Harriott II Riverboat schedule.
Check-in at The Renaissance is 4 p.m., and checkout is 11 a.m. On-site parking is $12 a day.
Montgomery Events Calendar
January 25-May 18 – "Macbeth" at Alabama Shakespeare Festival
February 6 – "Beauty and the Beast" at the Montgomery Performing Arts Center
February 21, March 21 and April 18 – Southern Circuit Tour of Independent Filmmakers at the Capri Theatre
February 27-March 3 – Canvases, a two-day art and film festival celebrating F. Scott and Zelda Fitzgerald
March 2 – F. Scott and Zelda Fitzgerald Museum 19th Annual Gala
March 8-May 18 – "To Kill a Mockingbird" at Alabama Shakespeare Festival
March 23 – Festival of Fiber Arts at Old Alabama Town
March 28-May 9 – "Twelfth Night" at Alabama Shakespeare Festival
March 31 – Organic plant sale at the Downtown Farm
April 4 – Biscuits opening day
April 13 – Free summer concerts start at the Riverwalk Amphitheatre
May 4 – Southern Makers: Celebrating Artisans & Chefs of Alabama
May 18 – River Walk Wine Festival
Photo Credits: Riverboat, Riverwalk Amphitheatre, Railyard burger, Central interior, bouillabaisse at True, Chef Wesley True and outdoor dining in Old Cloverdale courtesy of Montgomery Area Chamber of Commerce Convention & Visitor Bureau; riverfront by Deep South; Renaissance hotel room courtesy of Renaissance Hotel & Spa; Court Square fountain, bust of Rosa Parks, Hampstead farm and Fitzgerald Museum by Deep South. 
Thanks to Tiffany Bell and Matter Creative Studio for hosting us in Montgomery and giving us the full tour last summer! 
Download the Deep South Literary Trail App to find out more about the Court Square fountain, Alabama Shakespeare Festival, F. Scott and Zelda Fitzgerald Museum and Zelda's former high school. 
Related Content: 
Remembering F. Scott Fitzgerald at West Egg Cafe
Paddling the Black Belt
The Future of Gee's Bend