American Horror Story: Freak Show Location & Viewing Guide
The new season of "American Horror Story" — with many returning cast members and a whole new freaky cast of characters — debuted on FX October 8. The show is filmed in New Orleans again but set in Jupiter, Florida, this time. The year is 1952 and the premise German expat Elsa Mars' (played by Jessica Lange) cabinet of curiosities. Elsa goes around collecting small town "freaks" like two-headed Bette and Dot Tattler (Sarah Paulson), Lobster Boy Jimmy Darling (Evan Peters) and his mom Ethel Darling as The Bearded Lady (Kathy Bates) for one of the last remaining sideshows to showcase the carny experience. Emma Roberts as fortuneteller Maggie Esmerelda and Angela Bassett as three-breasted Desiree Dupree didn't make an appearance in the first episode but are sure to show up under the tent soon. And it was Twisty the Clown (John Carroll Lynch) who stole the show on opening night, terrifying viewers as a killer, balloon animal-making clown terrorizing Bridgewater, Florida.
It's not difficult to substitute New Orleans for Florida. The heat, humidity, mosquitos, swamps and freaks are all there. We'll do our best to identify locations in both states as they come up episode by episode. When locations aren't available, we'll point you in the direction of something similar and just as creepy and also tell you where the stars of the show have been hanging out. For more from the premiere, see our list of the best tweets of the night. And please comment if you have more info on any of the locations listed below or seen in the show.
EPISODE 1: MONSTERS AMONG US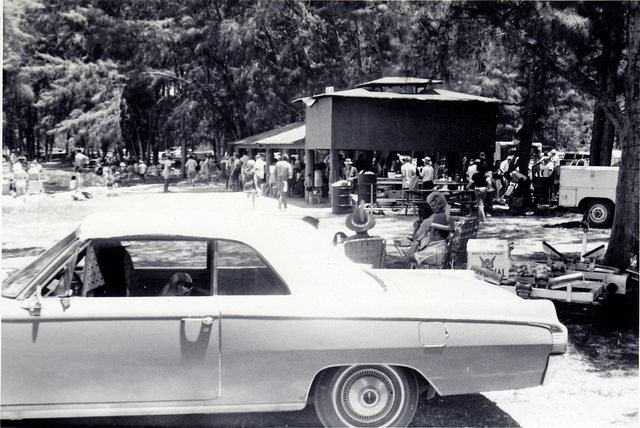 Jupiter, Florida 
According to the town's website, Jupiter was a pioneer village for fishermen and animal trappers during the turn of the 20th century. It became an incorporated township in the 1920s and now houses a population of 55,000 in Palm Beach County. Jupiter was rated the ninth "Happiest Seaside Town in America" by Coastal Living in 2012 — we'll see if that changes after "Freak Show" — and its most notable landmark is the Jupiter Inlet Lighthouse. Back in the '50s, Jupiter didn't have a sideshow of its own but nearby Gibsonton did. People in the carnival and circus business would winter there and, according to Wikipedia, the town was home to Percilla the Monkey girl, the Anatomical Wonder and the Lobster Boy. Siamese twin sisters ran a fruit stand here (sound familiar?), and at one time, it was the only post office with a counter for dwarves. Today, Gibsonton is home to the largest trade show in the carnival industry and the International Independent Showmen's Museum, which opened in 2012 and tells the carnival story. Photo is of DuBois Park in 1960s Jupiter by Beth Scupham on FlickrCreative Commons. 
UPDATE: Westwego, Louisiana
On Location Vacations confirmed that the actual filming location for "Freak Show" is outside of New Orleans in Jefferson Parish on an exterior set located off the River Road. The lot was situated down a gravel road near Brother's Food Mart. See photos here.
Camellia Grill 
626 S. Carrollton
New Orleans, LA
It looks like this is going to be the show's go-to when it comes to dining out. Elsa meets Jimmy Darling at New Orleans' own famous breakfast spot Camellia Grill. Eggs, grits, omelettes, hamburgers, cheese fries and sandwiches make up the menu, and if you go on a weekend, expect to wait in line for a table. Jessica Lange as Elsa made a grand entrance in her fur and took a seat next to Evan Peters at the counter. When leaving, she uttered her now famous line "stars don't pay" after the waitress asked her to take care of the bill. The grill showed up again in episode 2, when Elsa's gang of freaks arrive and proceed to order Salisbury steak, meatloaf and a wedge salad before causing a ruckus and making a quick exit. Photo by Steve Terrell on Flickr Creative Commons. 
EPISODE 2: MASSACRES AND MATINEES
Hanley's Toys
We're pretty sure this isn't a real toy store in New Orleans, but please comment if you have any info on this location. The store looks to be a small space with a red-painted exterior and blue, white and red striped awning out front. Inside, white shelves hold games, children's toys and Halloween masks, while Twisty lurks in the background among a row of much happier looking clowns. The killer clown has rigged up a toy robot to trail blood across the red and yellow checked tile floor.
EPISODE 3: EDWARD MORDRAKE
Part one of a two-part Halloween episode, this one introduced carny legend and real life two-faced figure from history Edward Mordrake, whose spirit is summoned by any freak who performs on October 31. Two homages to John Carpenter's original "Halloween" and Patti LaBelle in a chicken costume rounded out the episode, as trick or treating got under way and Twisty along with his new pal Dandy the Clown got ready to play.
American Morbidity Museum
We're still trying to determine the location of this building with the beautiful architectural ceiling, but a good substitute for now is New Orleans Pharmacy Museum. Showcasing what used to be the pharmacy of Louis Joseph Dufilho Jr., known as America's first licensed pharmacist, this museum displays tools used for old medical practices like bloodletting and leeches. But the creepiest part is the story of Dufilho himself. Along with dispensing medicine in the 1800s, he used to perform exploratory surgery on women, many of which resulted in their death. He would then bury the bodies in the walls of the pharmacy. Eventually, he contracted syphilis and legend has it that as he became madder and madder, his experiments got stranger. Some say eerie groans and other sounds can be heard from the upper floors, even though nobody is up there.
Houston, Texas, also has the National Museum of Funeral History and, as we noted above in the Jupiter, Florida, entry, nearby Gibsonton is home to the International Independent Showmen's Museum, which opened in 2012 and tells the carnival story.
Trick or Treating in Lakeview
A neighborhood of New Orleans bounded by Lake Pontchartrain, Lakeview was flooded after Hurricane Katrina but has made a comeback in recent years with the help of groups like the Lakeview Civic Improvement Association. As depicted in this episode, the neighborhood is popular with families featuring oak-lined boulevards, spacious homes and, of course, trick or treating. Just watch out for Twisty the Clown, who could be hiding behind a hedge like villain Michael Myers in John Carpenter's original "Halloween."
Fortune Telling in Jackson Square
Emma Roberts arrives on the scene in this episode as fortune teller Maggie Esmerelda. Jimmy is smitten by her of course (Evan Peters and Roberts are married in real life), but Maggie also charms Elsa as she looks into a crystal ball and sees her future. For fortune telling in the city, the New Orleans CVB recommends Jackson Square, which is usually filled with psychics and tarot card readers outside St. Louis Cathedral. Shops throughout the French Quarter also offer fortune telling services, while Esoterica Occult Goods on Dumaine Street is a tiny spot to purchase your own items.
EPISODE 4: EDWARD MORDRAKE, PT 2
No new locations.
EPISODE 5: PINK CUPCAKES
Dandy's House aka Longue Vue House & Gardens
7 Bamboo Road
New Orleans, LA
So far, we'd only been treated to the gorgeous interior of Dandy's house, with its winding staircase, crystal chandeliers and period wallpaper. Some viewers on Twitter speculated that the home is the same one used for Miss Robicheaux's Academy in Coven, but we weren't convinced; the exterior shown is definitely not the same. Dandy mentions burying Dora out back by the potagerie, which is French for garden, and the back view of the house appears to be stone with double staircases leading down to an English-style garden and pond. Thanks to @PasDeOops on Twitter, the house has been identified as Longue Vue. Located near the New Orleans Country Club off Metairie Road, Longue Vue is a 1939 mansion with period decor, art and eight acres of manicured gardens. The house is open Monday through Saturday from 10 a.m.-5 p.m. and Sunday from 1-5 p.m.
After doing some pushups in his playroom, Dandy visits a gay bar where he literally runs into Dell (Michael Chiklis) carrying two Brandy Alexanders. A favorite drink of Tennessee Williams, the cocktail containing creme de cacao, brandy and half and half can be found at many New Orleans bars. This scene was shot at F&Ms, a late-night hangout on Tchoupitoulas Street.
EPISODE 6: BULLSEYE 
No new locations we could identify.
EPISODE 7: TEST OF STRENGTH
As indicated in the comments below, this home is on Prytania Street in New Orleans' Garden District. Penny, played by Grace Gummer, has fallen in love with a freak and wants to leave home for Paul, but her father has her tongue forked and her face tattooed like a lizard to teach her a lesson. We see the house again in Episode 8 when the ladies kidnap Penny's father and bring him to Dell's caravan to get revenge.
EPISODE 8: BLOOD BATH 
Elsa travels to Miami to find a new act for the show after killing Ethel Darling. She finds Barbara (Chrissy Metz) at the real-life Botanical Garden in New Orleans City Park, a popular spot for weddings and parties. Elsa nicknames her "Ima Wiggles," but her role in the Freak Show will be as the Fat Lady. In the garden's Pavilion of the Two Sisters, Barbara is seen getting treatment for her weight, but Elsa lures her away with promises of being appreciated for her bulk. The two sit and talk on the outdoor terrace, which gives us a view of the 12 manicured acres of gardens. The gardens are open Tuesday-Sunday, and admission is $4 a person. See them lit up during December for Celebration In The Oaks throughout City Park.
Ethel Darling serves Elsa "mock" turtle soup just before the two get into an argument that results in Ethel's death. There's no need to mock this classic dish in New Orleans. Get the real thing at Commander's Palace and a host of other restaurants in the city. Cooked in a flavorful broth full of herbs and spices and served with a side of sherry, turtle soup is a delicacy second only to gumbo in The Big Easy.
GENERAL INTEREST 
Jazzland/Six Flags of New Orleans
While the carnival in "Freak Show" was created entirely by the crew at a location we're still trying to confirm, it just so happens that New Orleans has its own spooky abandoned theme park. Just to be clear, it's not open and to enter would be trespassing, but you can see some creepy, crusty crumbly pics on an illegal tour here. Opened as Jazzland in 2000, the park was bought by Six Flags in 2002 and then went underwater during Hurricane Katrina three years later. It was never reopened and remains frozen in time, complete with toppled crown heads, grinning jesters and plenty of rides. Photo by Erik Jorgensen from Flickr Creative Commons. 
Carousel Gardens Amusement Park
1 Dreyfous City Park
New Orleans, LA
No carnival is complete without a Ferris Wheel and carousel. Unfortunately, "Freak Show"'s version has Twisty the Clown waiting for you, but you can find clown-free versions at this amusement park inside New Orleans City Park. Sixteen rides, including an antique wooden carousel (listed on the National Register of Historic Places), make up the park.
The Green Eyed Gator Gallery
901 Chartres St.
New Orleans, LA
Funky, handmade crafts predominantly by Louisiana artists can be found at this French Quarter gallery. Thanks to @kbeninato on Twitter for letting us know that the cast shopped here and bought a scary jack-in-the-box. The gallery website says they also house an extensive collection of fine art dolls, and we spotted a mixed media fortune teller, skeleton art and plenty of items that look like they belong in the show's opening credits. Photo from Green Eyed Gator Facebook page.
Selling the Freaks 
Learn how FX created the carnival look for "Freak Show" with banner art by an artist living in New Orleans:
Featured photo from fxnetworks.com.