10 More of the South's Best Farmers Markets
Ask any Southern local what to check out on a weekend in their town, and they're likely to tell you to stop by the farmers' market. Full of delicious, local produce, yummy baked goods and unique homemade products, farmers' markets reflect the best of the South, especially in spring and summer. Next time you're searching for a market to visit, consider this list of some of the South's best.
Cobblestone Farmers Market
Winston-Salem, North Carolina
Starting April 18, this Old Salem market includes seasonal vegetables and fruits, herbs, honey, mushrooms, goat cheese, meats, eggs, breads, wine and even wool. One of the state's few sustainable, producer-only farmers markets, Cobblestone takes place every Saturday from 9 a.m.-noon adjacent to the Single Brothers Garden.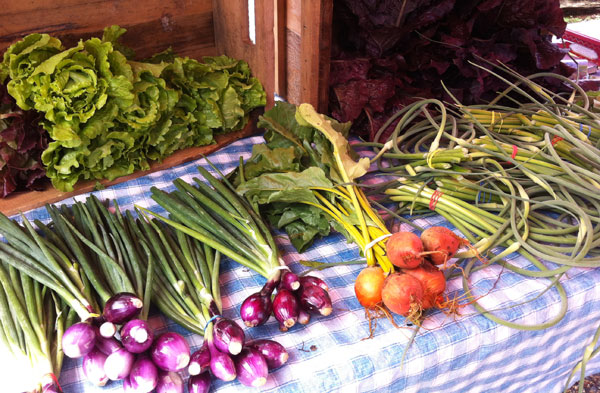 Cotton Mill Farmers Market
Carrollton, Georgia
The Cotton Mill Farmers Market began in 2002 to reconnect farmers to residents, preserve the area's agricultural heritage and encourage the purchase of local produce. Vendors include the Spring Flower Farm, Mauldin Berry Farms and Capria Gia Cheese Company, along with those selling pottery, furniture and coffee. The market officially opens April 18 and runs every Saturday through the end of October downtown on Rome Street — rain or shine.
Historic Roanoke City Market
Roanoke, Virginia
A weekend trip to the Blue Ridge Mountains in Virginia isn't complete without a stop in the cozy city of Roanoke. Home to the oldest operating open-air market in the state, Roanoke is also full of tasty restaurants and wineries. In addition to the normal offerings of a farmers' market, the Historic Roanoke City Market also sells unique gifts including jewelry and art, all handcrafted by local artisans. The market is open year-round, seven days a week, allowing tourists and Roanoke citizens to enjoy fresh produce, meats and flowers whenever they wish.
Mt. Pleasant Farmers Market
Mt. Pleasant, South Carolina
This suburb of Charleston has a lot to offer in the farmers' market department, including fresh seafood, baked goods, canned goods and locally produced snacks. Starting up on April 7 and ending September 29, the market is open every Tuesday from 3:30-7 p.m. Whether it's mid-week through your beach trip to the Isle of Palms or you're headed out from a long weekend in The Holy City, the Mt. Pleasant Farmers' Market is the perfect pit stop for locally grown produce and advice from master gardeners who are always on hand.
Oxford City Market
Oxford, Mississippi
Located just off I-85, Oxford's market has a little something for everyone, including Lafayette County tomatoes, Taylor honey, beef and chicken products, grits and local art. Everything sold at the market is homegrown or homemade, and all vendors live within a 25-mile radius of town. The market opens April 22 and runs through November on Tuesdays from 3-6:30 p.m.
Raleigh Farmers Market
Raleigh, North Carolina
One of the few farmers markets on the list open seven days a week, the Raleigh state farmers market offers 15,600 square feet of shopping in a climate-controlled building – a perfect escape from the summer heat. In addition to the normal offerings of local produce and plants, the market also features old-fashioned candles, North Carolina gifts, locally made lotions and pottery. The State Farmers Market Restaurant is open for breakfast and lunch seven days a week, with many menu items made from state-based ingredients. Be sure to try one of the restaurant's "real biscuits," made from North Carolina self-rising flower and buttermilk.
Red Stick Farmers Market
Baton Rouge, Louisiana
A favorite morning tradition in the Baton Rouge area, the Red Stick Farmers Market began as a way to build a feeling of community between farmers and their customers. The market is held downtown from 8 a.m. to noon on Thursdays and Saturdays, with a backup location in the local Galvez Garage in the event of rain. Unique vendors include Amato's Winery and Farm, Dillard's Old Fashioned Teacakes and Plantation Pecan Company.
River Market
Little Rock, Arkansas
Since 1974, this market has been bringing farm-fresh produce to Little Rock and now makes its home in two open-air pavilions overlooking the Arkansas River. Produce, flowers and berries, jellies, bread, tamales, fried pies, cheese, candles, soaps and arts and crafts can be found from May through October 7 a.m.-3 p.m. rain or shine. After shopping, having lunch in the Market Hall's mix of restaurants.
Travelers Rest Farmers Market
Travelers Rest, South Carolina
With more than 50 vendors selling everything from produce to honey, seafood, baked goods, coffee and plants, this market kicks off May 2 and includes cooking demonstrations, music and market talks. Note the new location at the old Travelers Rest High School and Saturday hours from 9 a.m.-noon through September 26.
Winter Park Farmers Market
Winter Park, Florida
Held at the historic train depot in the heart of downtown Winter Park, this market provides produce, baked goods and other unique items to the community every Saturday morning from 7 a.m.-1 p.m. Vendors include Winter Park Dairy, Sweet Potato Pie, Port Orange Nursery, It's Apples and House of Jerks.
Photo credits, from top: Painted door and produce from Cobblestone Farmers Market by Deep South; Yokna Bottoms Farm sign from Oxford City Market Facebook page; and pottery from Travelers Rest Farmers Market Facebook page. 
For more Southern markets, see our list from last year.